Supporting Veterans and Family Caregivers at Home
By Elaine Ryan , November 10, 2014 02:52 PM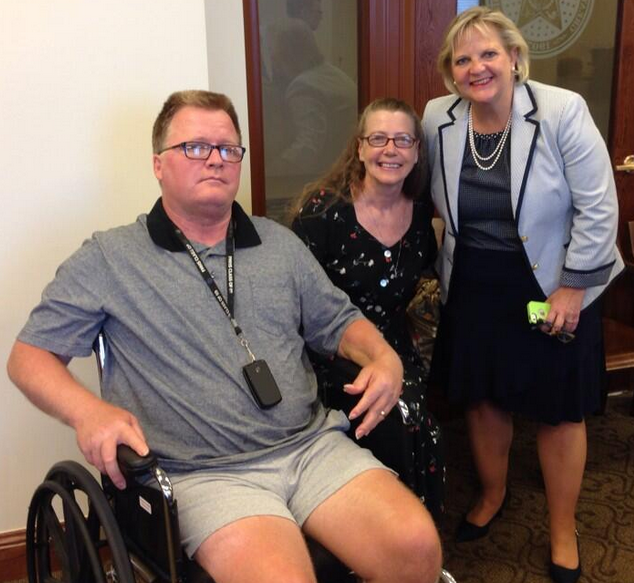 Several months ago, I met Doug and Michelle Mercer of McAlester, Okla. Doug had been home from Iraq for only four days when he suffered debilitating injuries in a serious motorcycle accident. Three and a half years later, he is still recovering brain function, he uses a wheelchair and he needs help 24/7.
Following a short stint in rehab, Doug came home with his wife, Michelle, as his caregiver. Without any instruction, she had to perform complicated medical tasks to help her husband, like cleaning his wounds and operating complex medical devices. Unfortunately, the lack of training led to another accident: Doug broke one of his legs as Michelle tried to get him into the car. This incident occurred just several weeks after Doug returned home from the hospital.

Watch Doug and Michelle's story

Michelle is one of 600,000 family caregivers in Oklahoma — 42 million across the country — who perform medical and nursing tasks to help their loved ones stay at home — and out of costly institutions. While these duties can be overwhelming, support is now here for Oklahoma's silent army of family caregivers.
Supporting family caregivers like Michelle
On Nov. 1, Oklahoma became the first state in the nation to implement the Caregiver Advise, Record, Enable (CARE) Act. The act gives family caregivers the support and training they need by requiring hospitals to:

Instruct family caregiver on the medical tasks they will need to perform to care for their loved ones at home
Notify family caregivers when their loved ones are to be discharged or moved
Record the name of the family caregiver when his or her loved one is admitted into the hospital

Doug and Michelle shared their powerful story to help AARP Oklahoma fight for the CARE Act. And, because of their strong advocacy on this issue, the Mercers were invited to attend the bill signing ceremony with Gov. Mary Fallin.

What you need to know about the CARE Act in Oklahoma

Why my family needed the CARE Act
As a caregiver to Mom and Pop for more than 15 years, I know firsthand why family caregivers need the CARE Act. For me, wound care, medication management and nebulizers became part of my family's routine. This is my story:
We're still fighting
AARP is fighting to pass the CARE Act in other states across the country:

In New Jersey, The CARE Act was signed by Gov. Christie on Nov. 13th, 2014 and will go into effect on May 12th, 2015.
In Hawaii, the state legislature created a task force to explore the elements of the CARE Act, and determine the feasibility of introducing the bill in the 2015 session. The task force is due to report back to the legislature by Jan. 1.
Share with others how you can show respect for caregivers of Veterans »
Tell your story and help us fight for family caregivers
Doug and Michelle's story helped pass the CARE Act in Oklahoma, and your story can help us fight for you and your loved ones in your state. To honor the unsung heroes who give their hearts as caregivers every day, AARP has launched a new initiative called I Heart Caregivers to recognize you — and spotlight your stories. So to all fellow family caregivers out there, please share your story and together we can fight for you!
If you are a family caregiver, you're not alone.
To stay up to date or to get involved with our caregiving advocacy in the states, sign up for the AARP Advocates e-newsletter, or visit your state Web page.
To find the tools and support you need, as well as ways to connect with other caregivers, visit the AARP Caregiving Resource Center.
UPDATE 11/14/14: The CARE Act was signed into law in New Jersey on Nov. 13th, 2014 and took effect May 12, 2015.
UPDATE 3/30/15: The CARE Act is now also law in Virginia and West Virginia.
_____________________________________________________________________________________
Elaine Ryan is the vice president of State Advocacy and Strategy Integration (SASI) for AARP. She leads a team of dedicated legislative staff who work with AARP state offices to advance advocacy with governors and state legislators, helping people 50-plus attain and maintain their health and financial security.
Follow Elaine on Twitter: @RoamTheDomes.
_____________________________________________________________________________________