Tell Congress: Protect Seniors from Hunger Now
By David Certner , July 08, 2014 02:05 PM
The Older Americans Act (OAA) is critical to helping seniors live independently as they age. This is the first in a three-part series outlining the importance of programs funded by the OAA to the dignity of seniors across America. Please read, share and tell Congress to not play political games with seniors' health and well-being.
---
Today, too many older Americans are one meal away from going hungry. The numbers are startling:
- 9 million
Americans aged 50+ are at risk for hunger every day
- 79%
more age 50+ Americans are at risk for hunger today than were at risk 10 years ago
Why are seniors at such high risk? Because meals are hard to afford on a fixed income, and the physical effects of aging can make formerly routine tasks such as grocery shopping and food preparation difficult, if not impossible.
>> Discussion: Fighter Hunger in Your Hometown
That's why services like the one provided by Meals On Wheels are so important. Without the guarantee of nutritious, low-cost meals delivered to their doors, many seniors would be forced to leave their homes - where they want to live - for costly nursing homes.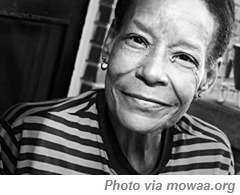 Take Mrs. Hill, for example, a recently-widowed senior with a debilitating hip injury which makes shopping and food preparation difficult. She describes the regular visits from Meals On Wheels volunteers as a highlight of her day:

The service is not just delivering noonday meals - it's also providing safety, security, and someone to check in on you. I was greatly elated at that thoughtfulness.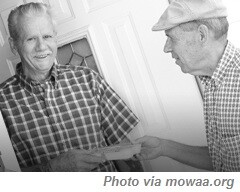 Then there's Mr. Alsworth, who turned to the program after undergoing cancer treatment. After being weakened by chemo and radiation therapy, he gives Meals on Wheels credit for helping him regain his strength.

It's exactly what I needed. It gave me energy. It really got me back to life.

These are just two of many of Meals On Wheels success stories. Yet even though helping protect seniors from hunger is something we can all agree on, Congress has yet to renew the Older Americans Act (OAA), undermining programs like Meals On Wheels.
One estimate puts the number of meals the OAA provides at 19 million per year. Stop and think about that -- 19 million meals. That goes a long way toward reducing senior hunger. But unless the public speaks up, Congress isn't likely to act.
That's where you come in.
Right now, Congress is stuck in political gridlock over the OAA, and there are just a few short weeks left before they recess for the summer. We have a brief window of opportunity right now to make sure they do the right thing - so we need you to take action today. Tell your Senators to stand up for the dignity and independence of seniors and support the Older Americans Act now!
UPDATE [2/10/15]: T he Senate HELP Committee has unanimously approved the Older Americans Act Reauthorization Act of 2015 , a bipartisan bill supported by AARP. The bill now awaits a vote in the full Senate.