Thank You, Nurses!
By Elaine Ryan, May 09, 2017 09:27 AM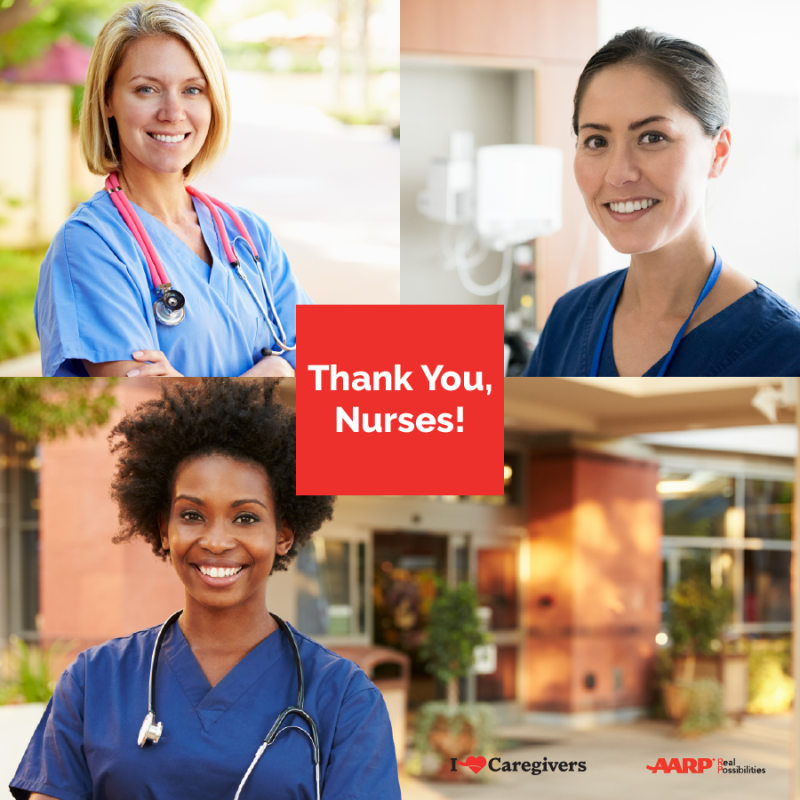 During National Nurses Week, I am making a special effort to say "thank you" to all the nurses in my life, and I invite you to do the same. Each and every day, in communities across the country, nurses help their patients to get and stay well. They use their incredible skills to comfort us in difficult times and care for us when we're at our most vulnerable.

For America's 40 million family caregivers, nurses often become even more heroic as they help us care for our parents, spouses and other loved ones. For me, Nurse Sue was an invaluable member of our family's team. Her assistance was critical to keeping my mom safe at home.

Family caregivers often share their stories with us on I Heart Caregivers and the @AARPadvocates Facebook page. It seems many also have their own versions of Nurse Sue:

Judith: "I could not have been my mother's caregiver without all the care and advice given to me by the nurses. THANK YOU ALL."
Nana: "When my husband was alive the nurses were angels. They really took care of my husband in our home, especially the hospice ones, they were just awesome."
Barbara: "Where would we be without them [nurses] to care for us & our families when we need them?"
Dolores: "Nurses are in a league of their own! They do such wonderful work and it often goes unnoticed. I have a lot of admiration for nurses!"
Nurses heal. Red tape doesn't .
That's why AARP is fighting to cut through the red tape that prevents nurse practitioners — and all advanced practice registered nurses — from doing their jobs. Right now, 28 states still have outdated rules that restrict nurse practitioners from using all their skills and training to provide primary and preventive care, including:

routine health care such as diagnosing and treating patients
management of chronic conditions
ordering lab tests
prescribing medications
performing annual exams
and much, much more
Keep in mind: nurse practitioners have master's or doctoral degrees and advanced training, so they can give patients the care we count on. With modernized state rules, patients, family caregivers and our loved ones will have a better opportunity to receive the care we need, when and where we need it. And, yes, this means: at home and in our communities.

To all nurses, again, I give you my thanks. Your caring helped make me a better, stronger family caregiver. For that alone I am grateful.

Where does your state stand when it comes to rules that allow nurse practitioners to do their jobs?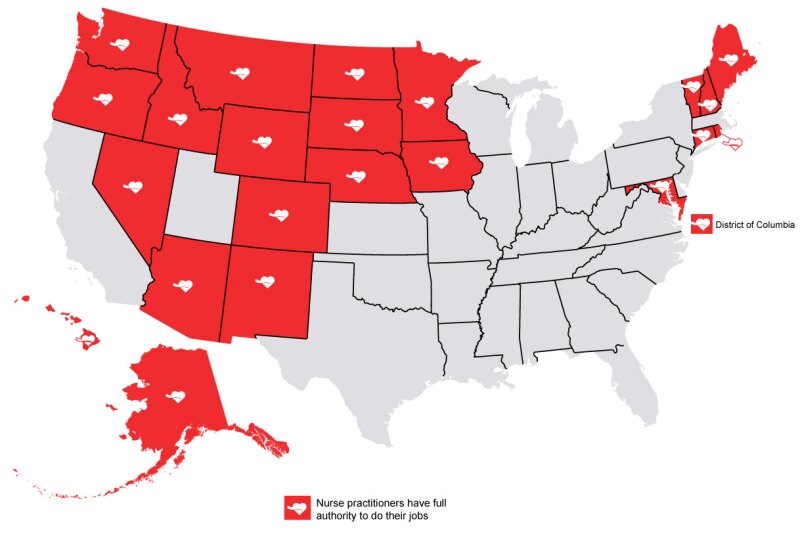 Sign up to get involved and help AARP cut the red tape.


---

Elaine Ryan is the vice president of state advocacy and strategy integration (SASI) for AARP. She leads a team of dedicated legislative staff members who work with AARP state offices to advance advocacy with governors and state legislators, helping people 50-plus attain and maintain their health and financial security.

Photos
iStock: 504852694/monkeybusinessimages, 530421576/JohnnyGreig, 465076071/monkeybusinessimages