The Boomer–Millennial Connection for Increased Savings
By Elaine Ryan, February 22, 2016 02:54 PM
En español | What do boomers and millennials have in common? As it turns out, much more than you'd think. Last week, millennials from coast to coast were discussing state options to give 55 million workers a simple way to save. Our AARP California office hosted a "Work and Save" Summit at East L.A. College, in partnership with the Young Invincibles, a national nonprofit, nonpartisan organization that advocates on behalf of 18-34-year-olds. In New York City, AARP teamed up for a shared discussion on financial security and workplace savings.





Now, some people assume that there's no way that the interests of older Americans and younger Americans can go hand in hand.

I'm happy to say that the reality is far different — and much brighter! Millennials are working hard and saving for retirement, despite college debt and rising expenses. In fact, more than two-thirds (67 percent) of millennial workers are consistently saving for their future, according to a national poll released last week by the Young Invincibles.

Ways to save, expert investment advice, scam alerts and more! — AARP Money Newsletter »

With the proper tools, we can help even more millennials, and all generations, save for their future. One simple tool in particular — the ability to save for retirement at work — increases savings rates 15 times. Unfortunately, 55 million workers across the country, including more than 7.5 million in California and 3.5 million in New York, lack this commonsense option.

"Our poll finds that we have work to do to ensure young workers have the means and ability to save, and with millennials set to make up a majority of the workforce by 2020, we must move quickly."  — Jen Mishory, executive director of Young Invincibles

In addition, 68 percent of Latino workers and 53 percent of African Americans lack access to an employer-based retirement plan.

Bottom line: Much needs to be done to help all generations save for the future.

That's where Work and Save — a convenient way to save through an easy payroll deduction at work — comes in. The plan set-up would be facilitated by the state and then used by people like employees, small-business owners or anyone else that needs a way to save.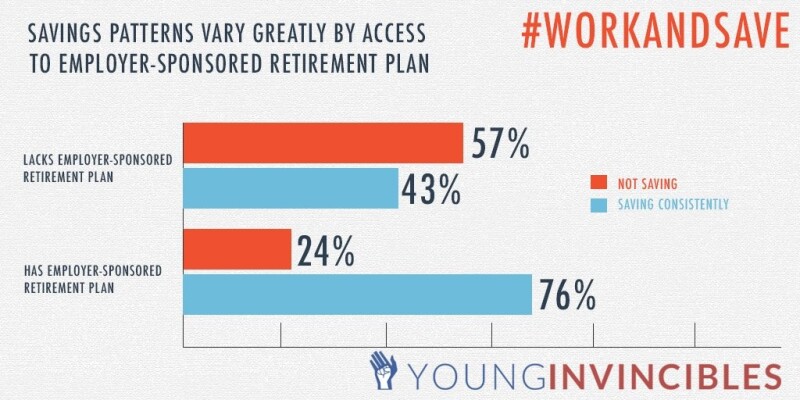 According to the Young Invincibles poll, 85 percent of millennials support Work and Save plans. Even more impressive, this support holds strong across party lines:

79 percent of Republicans
85 percent of independents
89 percent of Democrats

We'll be fighting hard this year to pass Work and Save legislation (called Secure Choice) in California, New York, Connecticut and states across the nation. Follow me on Twitter @RoamTheDomes to get the latest news from Sacramento and other state capitols. Together, we can ensure that millennials, Gen Xers, boomers and all Americans can live a life of independence and dignity in retirement.

And to stay up to date on our AARP advocacy in the states, sign up for the AARP Advocates e-newsletter or visit your state Web page.


---

Elaine Ryan is the vice president of state advocacy and strategy integration (SASI) for AARP. She leads a team of dedicated legislative staff members who work with AARP state offices to advance advocacy with governors and state legislators, helping people 50-plus attain and maintain their health and financial security.

Photo: saving money/iStock

Also of Interest

See the AARP home page for deals, savings tips, trivia and more.