The Who, What, When, Where of Voting
By Elaine Ryan , November 03, 2014 01:06 PM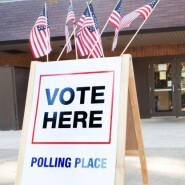 On November 4th, like millions of Americans, I'll head to the polls to cast my ballot. I've done my homework, know where the candidates stand on important issues — like financial security and support for family caregivers — and I'm ready to vote.
>> Sign up for the AARP Advocacy Newsletter
But even though I've been voting for years, I still need to check some basic facts:

When do I vote?
The first Tuesday after the first Monday in November, or this year: the 4 th! Most polls open between 6 and 7 a.m. and don't close until 7 or 8 p.m. — but the exact hours vary from state to state.

Click here to find out when polls are open in your state.
Where do I vote?

Even if you've voted at the same place every year, it's best to double-check that your polling location hasn't changed. Most states have an online tool where you can easily look up where to vote.
Click here to look up your polling location.

What do I need to bring?
Other than a passion for democracy, it depends on where you live. While in some states all you need is you, others require an ID or some other sort of verification.

Click here to see what you need to bring to vote.
Most importantly, whom do I vote for?

This one is up to you! I vote for the candidate who I think will stand up for the issues important to me: information that isn't always the easiest to find. To make the process of choosing a candidate easier, AARP has created nonpartisan voters guides, so you can see where the candidates stand on crucial issues, like financial security, supporting family caregivers and more. The guides give you the straight scoop, unlike the candidates seen below, on the issues important to you and your family.
Click here to see where your candidates stand on the issues important to you!

Remember, your vote is your voice. I hope you will set time aside in your day tomorrow to get out there and cast your ballot!
Follow me on Twitter @RoamTheDomes for more news from across the country. And to stay up to date in the states, sign up for the AARP Advocates e-newsletter or visit your state Web page.
Also of Interest

See the AARP home page for deals, savings tips, trivia and more