There is Nothing 'Fuzzy' About Social Security Benefits' Positive Impact on the Economy
By Debra Whitman , October 22, 2013 01:37 PM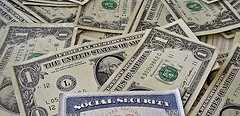 The idea that Social Security benefit payments help support local and state economies and the national economy is obvious to all 57 million beneficiaries who spend their dollars at stores and to the merchants who sell them goods and services. But it is not obvious to many in Washington. In a town focused only on what Social Security payments mean for the federal budget, a new report by AARP's Public Policy Institute highlights, in actual dollars and jobs, what Social Security benefits mean for each state's economy and its residents.
The report finds that the $761 billion in benefits paid in 2012 to Americans living in the United States supported:
- About $1.4 trillion in economic output (goods and services)
- Just over 9.2 million jobs
- About $774 billion in value added (gross domestic product)
- More than $370 billion in salaries, wages and other compensation
- Tax revenue for local, state and federal governments exceeding $222 billion, including $78.9 billion in local and state taxes and $143.3 billion in federal taxes.
Writing in the Wall Street Journal, American Enterprise Institute analyst Andrew Biggs accused AARP of using "fuzzy math" to determine these economic impacts of Social Security benefits. Mr. Biggs accepts that Social Security benefits have a "multiplier effect" - the idea that a dollar of benefits paid out ripples through the economy generating additional economic gains - but criticizes AARP for misleading readers by not accounting for the long-term impact that payroll taxes might have on private savings.
Other analysts have covered the possible negative implications of payroll taxes. The AARP report tells the other side of the story: the importance of benefit payments, which, as the report notes, is too often ignored.
Mr. Biggs' recognition that "in the short term" Social Security may be a net boost for the economy should not be discounted, however, particularly given that our weak economy is still struggling to recover from the Great Recession. And keep in mind that this short-term impact is repeated month after month and year after year as millions of Americans receive and spend their benefits.
But let's be clear: Social Security is not a short-term stimulus. It is an ongoing insurance program that protects retirees and almost all working Americans and their families in the event of death or disability.
Mr. Biggs' main argument is that the long-term "economic effects of Social Security are negative" because payroll taxes discourage private savings.
This line of reasoning is too limited. Social Security benefits provide a safety net that keeps 22 million people of all ages out of poverty. Absent Social Security, we would likely adopt other safety net programs that might be less efficient yet still need to be funded by taxes. In addition, adult children would have to provide more financial support to their parents. Ignoring these facts leads to an unrealistic and distorted view of the actual long-term economic effects of Social Security.
This argument that Social Security payroll taxes discourage savings has been used by Mr. Biggs and others in the past to support privatizing Social Security by turning it into individual accounts subject to the vagaries of the financial markets. He is now using it to argue that Social Security's financing gap should be closed with benefit cuts alone.
Increasing saving is important for economic growth - more saving means a deeper capital stock and greater productivity - but we need more saving in addition to strengthening Social Security, not at its expense.
Too many people have no retirement savings or too little to offer much help in retirement. With Social Security benefits already being cut as we gradually increase the full retirement age from 66 today to 67, and with more and more benefits being subject to income taxes, the real question is how do we increase retirement security?
Mr. Biggs' recognition that benefit payments also affect the economy may help get us to a more balanced conversation about Social Security and a robust discussion about how to help people achieve a secure retirement. This is a discussion that we must have separate from any budget deal. Closing Social Security's funding gap by cutting benefits alone, as Mr. Biggs argues, however, is clearly not the answer.
Debra B. Whitman is AARP executive vice president for policy, strategy and international affairs.
Photo: 401(K) 2013/Flickr