'There Will Be No Retirement for Me.'
By Elaine Ryan, January 19, 2016 11:22 AM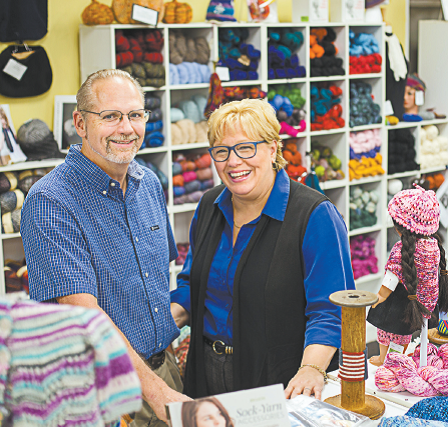 Meet Jeff and Capi Saxton. Jeff is a bookbinder and Capi manages a small fabric and sewing supply store. Now in their 50s, they've found it hard to save for retirement. "There will be no retirement for me," Jeff says. "I'll always have to work."

Jeff and Capi are not alone. In fact, the average working-age household has only $3,000 saved for their future. And if you have anything at all saved, you're ahead of the curve — 45 percent of working-age households have ZERO saved for retirement.

The good news is, one simple tool can help workers like Jeff and Capi save toward a more secure financial future. Simply having access to a retirement savings plan at work increases savings rates 15 times! That's why AARP is fighting in states across the country — like Indiana, where Jeff and Capi live — for Work and Save plans, a convenient way to save for retirement through an easy payroll deduction. While these plans go by different names — Secure Choice, STaRT, HERO and others — the benefits are the same.

Work and Save across the states
From Maine to California, and states in between, AARP is fighting for Work and Save plans to help workers retire with independence and confidence.




New Jersey : Progress in New Jersey! Gov. Chris Christie has signed a Work and Save bill into law, taking a step forward in helping New Jerseyans save for retirement. AARP will continue working with the governor on our shared commitment to making retirement secure for New Jerseyans, particularly those who work in small businesses without access to savings programs.

New York: In addition to a Work and Save bill, introduced by Assemblyman Robert Rodriguez and Sen. Diane Savino, currently being considered by the New York Legislature, last week Gov. Andrew Cuomo announced the creation of the NY SMART Commission to study a state-administered workplace retirement savings plan. AARP New York stands ready to work with the governor and the state Legislature to help empower workers to save for their future.

Indiana : The Indiana legislature is currently considering a Work and Save bill called Hoosier Employee Retirement Options, or HERO. A recent AARP survey of nearly 500 small-business owners in Indiana concluded that there is both a real need and widespread support for HERO across the political spectrum.

Maine : The Maine Legislature is also considering a Work and Save bill, LD 1318. This would help the 254,000 Mainers without access to a workplace savings plan retire with confidence.

California : A study, commissioned by the state Legislature, on the best way to implement a Work and Save plan in California is due to be complete any day. This study is an important first step in helping Californians save for their future.

Connecticut: Lawmakers in Connecticut have been examining the best ways to create a Work and Save plan. The Connecticut Retirement Security Board is scheduled to present a plan and draft legislation to the General Assembly by April 1.

Follow me on Twitter @RoamTheDomes to follow along as AARP goes to work in state capitols across the country to ensure you can live the life you want in retirement.

And to stay up to date on our AARP advocacy in the states, sign up for the AARP Advocates e-newsletter or visit your state Web page.


---

Elaine Ryan is the vice president of state advocacy and strategy integration (SASI) for AARP. She leads a team of dedicated legislative staff members who work with AARP state offices to advance advocacy with governors and state legislators, helping people 50-plus attain and maintain their health and financial security.