What Is Telehealth and How Does It Help Family Caregivers?
By Elaine Ryan, April 10, 2017 10:46 AM
I was a long-distance caregiver for my Mom and Pop for more than 15 years. I remember calling home to learn how Mom's doctor's visit went. Pop replied, "Oh, Dr. Hughes thinks the Buffalo Bills will have a great season this year." Lots of talk about quarterbacks, but few details on her diagnosis or treatment instructions.

So I made it a point to fly from Washington to Buffalo several times a month to visit, make meals and attend doctor appointments. Though it was a costly and time-consuming practice, at least I had the peace of mind of know their health care status and needs.

It doesn't matter if you live in a different state or the same house: Caring for a parent, spouse or other loved one can be overwhelming and stressful. The good news is, telehealth is emerging as a tool that can help make life a bit easier through more connected care.

What is telehealth?
Telehealth embraces the use of computers, cellphones or other communication technology to provide patients with the health care they need, when they need it. It doesn't replace one-on-one, in-person interactions with your doctor, nurse or other health care practitioner. Instead, it creates new and enhanced ways to get care and to take charge of your own or a loved one's health. For example:

A monitoring device that can alert a family caregiver and emergency health care providers when the person being cared for has a stroke or heart attack, or suffers a serious injury
A monitoring device used after you're released from the hospital to track your progress and vital signs
A video chat or online visit with your doctor
A video chat with a health care professional in an emergency situation to provide instructions as you wait for help to arrive
With telehealth, I could have attended my parents' appointments by phone or video, avoiding travel time and costs.

Here are some other family caregivers who could benefit from telehealth.

Larry
For the last seven years, Larry has cared for his 90-year-old mother.

"I rely on house call doctors as my only lifeline. But we live in the country, 60 miles from house call doctors, and they do not like to come all the way out here…"

Sometimes people need or prefer to see a doctor in person. Other times, they can avoid the time and expense of driving to an appointment. For Larry and his mom, a video appointment with his mom's doctor, from the comfort of her home, could ease some of his stress. It could also save him time and money.

Nancy
Nancy cares for her 82-year-old husband, Bob.

"Sometimes in life your plans do not work out. We have been coping with dementia with Bob for probably eight years now. He needs help in everything he does… I am seeing the results in my health every day as I decline mentally and physically."

Many family caregivers, like Nancy, sacrifice their own health to care for others. They often fail to do regular physicals, to consult with a health provider about new symptoms, or talk with a mental health professional about caregiving stress. Being able to connect with their health provider by phone or email could help family caregivers have time to take care of themselves.

Barriers to telehealth
While computers, smartphones and other technology can't replace in-person care for all individuals and situations, they can help make health care more accessible, affordable and convenient. In fact, telehealth has been shown to be as safe and effective in many ways as in-person care.

However, in many states outdated rules and regulations prevent the full use of these tools by patients. AARP is fighting to break down these barriers by passing laws that:

Ensure patients, and their family caregivers, have options to use telehealth, especially in their homes and other nonclinical settings
Define telehealth broadly to include emerging technology and make sure it can be covered by insurance, including private insurance and Medicaid
Make it easier for doctors and nurses to practice in multiple states, which in turn makes it easier to obtain care via telehealth; physician and nurse compacts are one such vehicle
And more!
If we do it right, these tools present a real opportunity.

Where does your state stand?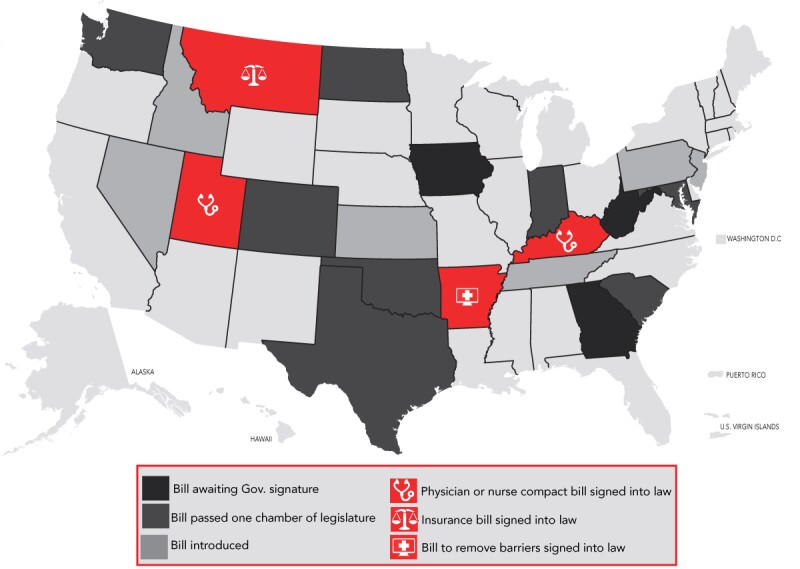 *map shows 2017 legislative activity


---

Elaine Ryan is the vice president of state advocacy and strategy integration (SASI) for AARP. She leads a team of dedicated legislative staff members who work with AARP state offices to advance advocacy with governors and state legislators, helping people 50-plus attain and maintain their health and financial security.

Photo: pre-art/ iStock