What's Your Retirement Dream?
By Elaine Ryan , April 21, 2014 01:00 PM
Move to Cape Cod and spend my days watching the waves roll in ... return to New York to be close to my roots ... or venture someplace completely new. What I want to do when I retire, I still don't know. What I do know is, I want to be in control of my financial future and to live independently as I age.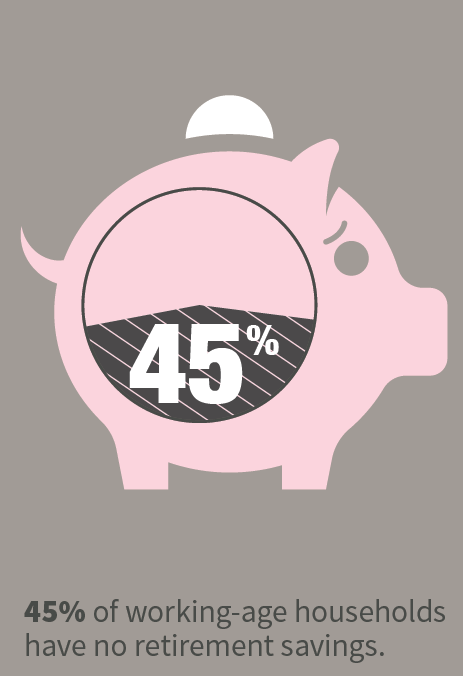 Financial security is crucial to living the life you want in retirement. Yet many Americans are not prepared to retire with confidence.
The facts are startling:
Social Security was never meant to be a person's entire income in retirement, and the average benefit is only $1,200 a month. Yet Social Security is the principal source of income for nearly half of older Americans.
57 million Americans have no access to a retirement savings plan through their employer - that's over 50 percent of the 18-to-64-year-old population.
The median retirement account balance is $3,000 for all working-age households. Even more alarming, these are the people ahead of the game; 45 percent of working-age households have no retirement savings at all.
People are 1,300 percent more likely to save when offered a retirement plan through work.
I think it's simple: You work hard and you deserve to retire with confidence. That's why AARP is fighting in many states for a Work and Save plan, a commonsense solution that will make it easier for small businesses to create retirement accounts for their employees.
California and Oregon have already passed versions of a Work and Save plan, and momentum is building in several other states:
In Illinois
, the Secure Choice plan has already passed the State Senate; its fate now rests in the House. If passed, the bill will benefit
2 million Illinoisans
and their families who don't have access to a retirement savings plan at work.
The highlights of the plan in Illinois and other states are:
Choice. It's up to each employee to decide if, and how much, he or she wants to contribute to an account. The plan would offer a wide array of investment options for savers - such as equities and mutual funds.
Portability. When employees switch jobs, they can take their Work and Save accounts with them.
No ongoing cost or risk for the state. Work and Save plans are intended to be self-sustaining, and will be 100 percent participant funded after initial start-up costs. A Work and Save plan is not a public pension, and the funds cannot add to the state's pension liability.
Benefits businesses. Work and Save is an easy way for businesses to offer their employees a retirement fund and gain a competitive edge in the marketplace.
The Illinois bill has strong support from both employers and employees. Excell Lewis, a small-business owner who testified in favor of the bill, says:

"It is literally no cost to the employers and it provides an overwhelming ability for employees to have options towards retirement. So it is really a win-win situation for not only the employer but for employees in building out their future."

Work and Save Plan Template Factsheet_CT 3-19-14, SB 249 has been introduced and if passed would make retirement saving easier for 600,000 Nutmegger workers and their families - all without costing taxpayers a dime.
In Minnesota, the Secure Choice Act would start the process of creating a voluntary savings plan, similar to a 529 college savings fund. Rep. Patty Fritz says it would "create a new generation of investors." A recent state survey shows overwhelming need and support for the plan:

4 in 10 Minnesotans don't have access to a retirement savings plan at work.
76 percent of survey respondents wish they had more money saved for retirement.
72 percent of survey respondents support the state setting up a retirement savings plan.
We're at a critical juncture in these states - I hope you'll join me in spreading the word and advocating on behalf of small-business employees and their families.
Follow me on Twitter @RoamTheDomes for more news on advocacy across the country. And to stay up to date on our AARP advocacy in the states, sign up for the AARP Advocates e-newsletter or visit your  state Web page.