When Mom's a Republican and Pop's a Democrat
By Elaine Ryan , October 27, 2014 01:09 PM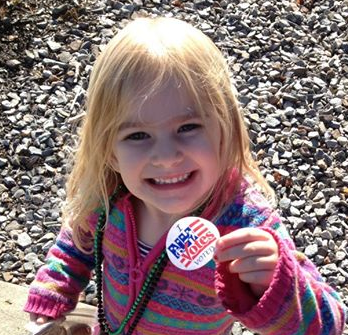 My mom was born in the same year that the 19th Amendment to the Constitution — giving women the right to vote — was ratified. She was a daughter of immigrant parents, who came to America in pursuit of freedom and opportunity. And my mom relished her right to vote. I have very early memories of walking with my mom, pop, brother and sister blocks to our polling place located at Outwater Park. It was a family tradition. I remember my pop telling family friends with a chuckle, "Every year, I cast my ballot for candidates, and my wife casts hers. We cancel each other out!" My parents didn't have much in common when it came to political party loyalty — which made for some very interesting family dinner conversations, especially when it came to how the candidates would address important issues — but what they shared was a passion about exercising their right to vote.
With Election Day just over a week away, I've been thinking about how this year's candidates will address important issues like financial security and support for family caregivers. While many are focusing on high-profile congressional races, my focus is on the states — where legislatures tend to work collaboratively and aren't, for the most part, stalled in gridlock. States are where the real action is.
AARP is helping voters find out where their candidates stand on important issues with voters guides for many gubernatorial and state legislative races. Focusing on financial security, caregiving and other state-specific issues, the state guides compile direct responses from the candidates to questions asked by AARP. So before you vote, know the issues and where the candidates stand on the issues that matter to you and your family.

Vote for financial security

With a the median retirement account balance of $3,000 for all working-age households, it's no surprise that when AARP surveyed voters age 50-plus in eight states, up to 50 percent were concerned about having enough saved in retirement. Even more alarming, those with anything saved are ahead of the game; 45 percent of working-age households have no retirement savings at all.
Where AARP stands on helping you plan for your future:
We're helping people live the life they want and have a secure financial future. AARP is fighting in states across the country for Work and Save plans, a commonsense solution to help individuals save toward a secure retirement. The plan is set up by the state and then can be offered to employees by small businesses and used by the self-employed, or anyone who needs a way to save.

Click here to see where your candidates stand on helping you plan for your future.
Vote for family caregivers

Across the states, 42 million unsung heroes provide $450 billion in unpaid care, helping their loved ones to live at home as they age. To do this work, family caregivers need support, training and resources.
Voters age 50-plus want more services available that help older adults live independently, like home health care, personal care and day programs. In fact, up to 79 percent of those surveyed think it should be a priority for elected officials.
Where AARP stands on supporting family caregivers:
Family caregivers serve a critical role in helping seniors live independently, at home. Yet, there are many ways they lack the support and resources they need. AARP is fighting to:
• Make sure " respite care" programs are available so family caregivers can take a well-deserved break.
• Strengthen workplace flexibility and protections for family caregivers.
• Give nurses more authority to heal, so they can provide even better care for older patients, at home.
• Provide family caregivers with instruction and training when their loved ones are in the hospital and preparing to transition home.
• And much more!

Click here to see where your candidates stand on supporting family caregivers.

This November, I'll be thinking of my mom and pop as I enter the voting booth, and I am proud to carry on their passion for voting.
Follow me on Twitter @RoamTheDomes for more news from across the country. And to stay up to date in the states, sign up for the AARP Advocates e-newsletter or visit your state Web page.