Your benefits are NOT bargaining chips
By Reshma Mehta , July 08, 2011 10:00 AM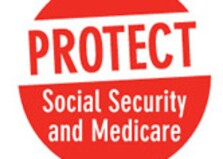 Well, I'm sure you all saw the shocking news yesterday: President Obama and Congress are considering cutting tens of billions of dollars from Social Security and Medicare to pay the nation's bills.
AARP's reaction? Don't even THINK about it!
Dealing with the deficit should be a priority, but this is the bottom line: Social Security did not contribute to the deficit and should not be cut as part of any budget deal. Your hard-earned benefits are not a bargaining chip in this debate.
You can visit AARP.org to read CEO A. Barry Rand's official statement. More importantly, I encourage you to take action immediately. The clock is winding down on this debate, and every phone call and email is crucial. Here are 4 easy things you can do:
1) Send an email to President Obama and your members of Congress via http://aarp.us/n9MsDV.
2) Call the White House comment line at 1-866-932-6171 and urge President Obama to protect Social Security and Medicare from harmful cuts. If you don't get through (the White House comment line has been completely flooded, as you can imagine), leave a voicemail.
3) Tell your friends and family what's going on. E-mail them the link to take action and the phone number (1-866-932-6171).
4) On Twitter or Facebook? Here is a sample tweet and a sample Facebook message you can post!
Each of these actions only takes a minute. So the question is: do you have 4 minutes to protect the benefits you've worked a lifetime for? I think the answer is...YES!
Let's keep the drumbeat going. The White House and Congress need to hear from each of us with a clear, strong message: Social Security and Medicare benefits should not be on the table for deficit reduction.
Thanks, all.