Zorro Lunch Box or Retirement Account, How Are You Saving for Your Future?
By Elaine Ryan, April 27, 2015 10:40 AM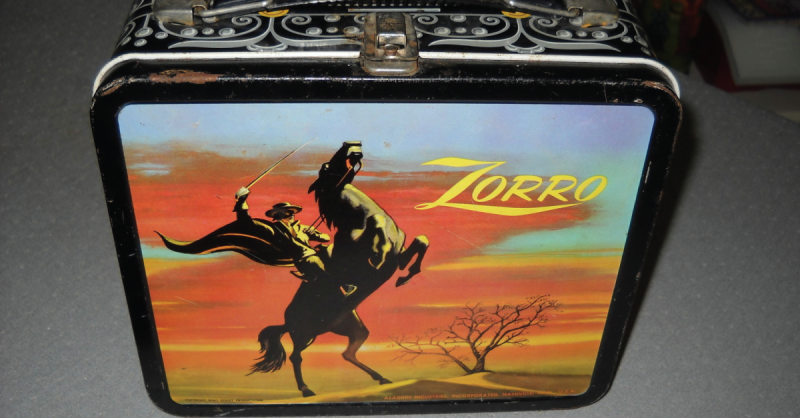 Growing up, I could tell when my Pop was coming home from work by hearing the jingling of change in his pockets. And, every night before he sat down for family dinner, Pop would go to the basement and empty the contents of his pockets into a Zorro lunch box for safekeeping. Mom and Pop were devoted savers — Pop in his lunch box and Mom in her Christmas Club account at the bank.

One day Pop announced, "It's time to buy a car." So, Pop asked my siblings and me to gather around the dining room table and he brought us the lunch box, the canning jars, the sewing baskets full of loose change. And when we finished rolling the coins, we went to the bank to exchange his bounty for a certified bank check to purchase his first "new" used car — a Chevy Impala. A year or so later, Pop was in an accident — hit by a driver with no car insurance. Pop was hospitalized and recovered, but the Chevy was a total loss. So Pop started the ritual again — saving for a replacement car and our future.

Today, the vast majority of Americans are not saving for the future. Why not? For many it may be because they don't have access to a retirement savings plan at work.

In fact, simply having a way to save for the future at your job increases savings rates by 15 times. Additionally , having a retirement savings plan is a key factor in Americans' retirement confidence, according to a new study by the Employee Benefit Research Institute.

At AARP we believe you deserve to retire with confidence. That's why we're fighting across the states for " Work and Save" plans to help you save for your future. While the plans can be different from state to state, they're all a convenient way to save for retirement that benefits small businesses, employees and the state.

A Work and Save plan for Washington
I'm pleased to share that Washington has become the second state in the nation to pass a Work and Save plan. The Retirement Marketplace for Small Businesses passed the state legislature this month with bipartisan support. This marketplace gives small businesses easy and direct access to providers — that have been vetted by the state for cost and transparency — so they can offer retirement savings plans to their employees.

This exciting news follows enactment this year of the Illinois Secure Choice Savings Program, a law that will give 2.5 million Illinoisans a way to save for their retirement.

States to keep an eye on
Both Oregon and New Jersey are considering a bill similar to Illinois' that would give their workers a way to retire with confidence.

Follow me on Twitter @RoamTheDomes for more news on retirement security. And to stay up to date on our AARP advocacy in the states, sign up for the AARP Advocates e-newsletter or visit your state Web page.

________________________________________________________________________

Elaine Ryan is the vice president of State Advocacy and Strategy Integration (SASI) for AARP. She leads a team of dedicated legislative staff members who work with AARP state offices to advance advocacy with governors and state legislators, helping people 50-plus attain and maintain their health and financial security.