9 Things to Know if You're Laid Off After 50
By Lorrie Lynch , September 17, 2014 12:29 PM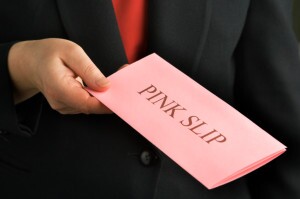 Tales from the newly laid-off have been overflowing my Facebook news feed of late.
These journalist friends, all of them over 50, are gobsmacked by the idea that their publications will go on without them. I get it — the same thing happened to me five years ago — and I'm heartsick for all of them.
On the dark day in 2009 when I was unceremoniously dismissed from USA Today, I was informed that my job had been "eliminated." Of course, it went to someone else the next day. As a charter member of "the nation's newspaper," I had worked for its magazine, USA Weekend, as a celebrity columnist and senior editor for 20 years. All told, that gave me 31 years' loyal service to Gannett Co. And at the time of my firing I was definitely 50-plus — a scary age at which to find yourself back in the job market.
But over the next 12 months of job hunting, I learned a lot about myself — and even more about the dynamics of landing paid work. I hope these tips prove useful to those in the same boat now:
1) Embrace your anger. Don't listen to the Soothers — you know, the people who say things like, "It's not personal. It's all about numbers." Of course it's personal! What could possibly be impersonal about unprovoked inhumane treatment? People with more power than you just devalued your longtime contributions to the workplace. So get mad if that works for you. (It did for me.)
2) Get every penny you are owed. If you worked for a company like my former employer, which is using the unemployment system to pay part of severance expenses, it's crucial to apply right now for unemployment benefits in your state. Once you get your paperwork squared away, getting your life back in order becomes a little less daunting.
If you're lucky enough to receive a severance package that is not contingent upon filing for unemployment benefits, make sure the accounting of service years is accurate and the transition of any defined benefit or 401(k) accounts is properly taken care of. You might do what I did: Hire a money manager to talk you through the process. (And if your former employer drags its feet on delivering what you know to be your due, speak with a labor lawyer.)
3) Hire a résumé rehabber. If you are over 50 – heck, if you are over 40 — it's time for an objective observer to inventory your skills. Trust me, you don't know how much you do in fact know (if that makes sense), and you especially don't know how to frame your accumulated knowledge in the requisite "new world" lingo. Case in point: I'd always thought my job included "juggling a bunch of freelancers who wrote good stories." What my résumé doctor taught me was that I actually "managed a contracted staff and delivered top-notch weekly print and Web content on time and on budget."
4) Update — and upgrade — your digital profile. That hiring manager is going to Google you the second your newly improved résumé lands in her hands. So make sure she sees a terrific headshot (possibly professionally done) of you on LinkedIn, Twitter, Google+, Facebook and any other relevant professional networks. LinkedIn is especially effective, so make sure your profile says a lot about you: Post your new résumé, and don't hesitate to solicit solid professional endorsements. (You never know what nice things people might say about you until you ask!)
5) Become an "influencer" and a "thought leader." (See what I mean about the new argot?) You may think you've been deprived of a public platform for thoughtful commentary about your industry, but you can use the above-mentioned social networks to follow, and remark upon, the ideas and writings of people in your field. Share articles you think will interest others in your profession. Be current and smart (no cat videos!). Follow people who follow you.
6) Tell everyone you're out of work — and I do mean everyone. Tell your pastor, rabbi, priest. Tell your dry cleaner and your deli guy. Tell your friends at church, at the gym, in the park where you walk your dog. This is the time to be neither shy nor retiring. I bet you'll be surprised at who will lend a helping hand (and even more surprised at who will not). When one of my neighbors asked innocently enough, "How are you?" I replied: "Oh, you probably didn't hear; I got laid off. I'm really shaking the bushes right now for a job or some consulting work in media or communications." I got a consulting gig and a few freelance assignments that way, one of which helped me land the job I have now.
7) Leave no digital stone unturned. Yes, online job-search engines often left me feeling like I was throwing résumés down black holes. Especially frustrating: Current business practice does not include the courtesy of an acknowledgment that your résumé has even reached its target. Still, writing cover letters for different positions and customizing your résumé to fit each one are good practices. This also helps you see that your skills and interests fit many more opportunities than you thought.
Among many other positions, I applied to be a PR woman for Oprah, a religion editor at a major newspaper, a booker for a new speakers bureau, a college-magazine adviser and an editor at a government-agency newsletter. I applied for jobs that interested me, regardless of salary, and reinvented myself — at least in my head and sometimes in a cover letter — several times a week.
>> Get discounts on financial services with your AARP Member Advantages.
8) Do volunteer or part-time work. A close friend (a lawyer with a high-level government job) was dumped when a new presidential administration came to power. Casting about for her next opportunity, she spent at least one day a week doing pro bono work for a nonprofit agency. It kept her in the working world and kept the dreaded gap from appearing on her résumé.
Another acquaintance, always impeccably dressed until the day she lost her TV correspondent job, used her fashionista leanings to get a part-time job in retail. Conveniently for her new circumstances, it also provided a merchandise discount.
I taught part time at a local university, which put me in contact with bright and lively young people. Many of them looked up to me, which never failed to make my day.
9) Do something other than job-search. Golf. Swim. Go to the gym. Form a walking group with some neighbors. My something other turned out to be yoga. I spent so much time at my favorite studio that I got a job behind the front desk (minimum wage but free yoga). That community of compassionate yogis eventually gave me the courage to enroll in a teacher-training class, and I completed my certification five months after starting my new job at AARP. I now teach yoga twice a week, and teaching has opened an entirely new professional world to me. That means I know I have a backup job if I ever get laid off again!
Photo: YinYang/iStock
Also of Interest

See the AARP home page for deals, savings tips, trivia and more.