A Perfect Storm for Age Discrimination
By Deb Silverberg , February 16, 2012 12:26 PM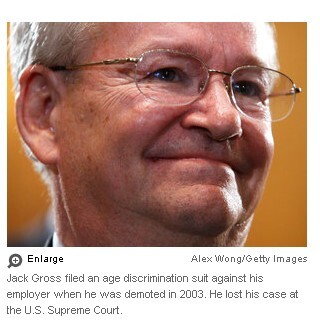 Yes, there's a perfect storm -- but there's also an opportunity.
A Supreme Court ruling, combined with a seemingly never-ending cycle of long-term unemployment, has had a chilling effect on age discrimination cases. They're more frequent and harder to prove, according to experts cited in this NPR Morning Edition segment.
People over 50 don't need news headlines to tell them that age discrimination is alive and well. They know firsthand.
On average, it takes someone age 55 or over three months longer to find a job than a younger person. Many 50+ workers can relate to the plight of Jack Gross, who was 54 and a vice president at FBL Financial, when he was among a dozen employees demoted in the wake of a merger. Although there has been some progress in the battle against age discrimination, more can -- and should -- be done.
From hiring to firing and everywhere in between, age discrimination shows up throughout the entire employment life cycle (HR-speak for the time when you get recruited to join a company to when you leave). The tough economy and high unemployment across all age groups certainly doesn't help.
If you want to take a glass half-full view, there are some silver linings to the Gross v. FBL case.
More public awareness about age discrimination. There is periodic media attention about the many forms of age discrimination ( Speedos, anyone?), and finding out more about the issue isn't hard. Just ask someone you know who is is 50+ and unemployed about their experiences. It will likely be eye-opening and perhaps heart-wrenching -- especially if they're among the long-term unemployed. The good news: more employers also want things to change.
Resources to help employers be more age-aware (and it can start with you). AARP has partnered with SHRM, the world's leading membership organization for HR leaders, in an effort to help combat age discrimination and raise awareness among employers. Business owners, leaders, managers, workers -- anyone who cares about this issue -- can talk to someone in your HR department and let them know about the AARP-SHRM Workforce Assessment Tool.
More employers seeing the value of older workers. Some progressive organizations and hiring managers are ahead of the curve on the wisdom and bottom-line benefits of hiring and retaining older workers. Success stories come in many forms, from employers who won a Best Employers for Workers Over 50 Award to a timely opportunity for DC-area baseball fans.
The Washington Nationals had so much success with mature workers last season that they're partnering with AARP's Washington, D.C. Office to spread the word about February job fairs. We call that a home run.
Greater success in the lower courts. According to Dan Kohrman of AARP Foundation Litigation, some plaintiffs are having better luck winning age discrimination cases in state courts. As noted in the NPR interview, New York, Michigan and several other states are seeing an uptick in favorable rulings.
The bottom line: we need to take heart at progress while stepping up efforts to move forward. When I got my first full-time job, entry-level women in my field were generally hired as receptionists and secretaries. Men with the same qualifications were junior account executives, with higher pay. Fair, no. Reality in the 1980s? Yep.
Fortunately, times have changed.
Let's hope that sooner rather than later, age awareness will be right up there with topics like diversity and gender discrimination and preventing sexual harassment. And I hope things change not just because of court rulings or legal threats, but because more and more employers will see that it makes good business sense to value older workers, and to prevent discrimination - age-based, and in all other forms.
Employers, now is your chance. Carpe diem.
Readers, what do you think needs to happen to combat age discrimination? Comment below to weigh in.
Workers: Learn more about age discrimination, from legal definitions to what to do if you think you've been a victim. Find job-hunting advice and tools at www.aarp.org/work/job-hunting/ and explore your real possibilities with Life Reimagined for Work .
Employers: See AARP's Employer Resource Center for information and tools to help you make the most of your multigenerational workforce. To optimize your talent management planning and help ensure that your workplace is free from age bias, check out the Workforce Assessment Tool from AARP and SHRM.
Photo via NPR's Morning Edition web site.