These Best Employers Value Workers Over 50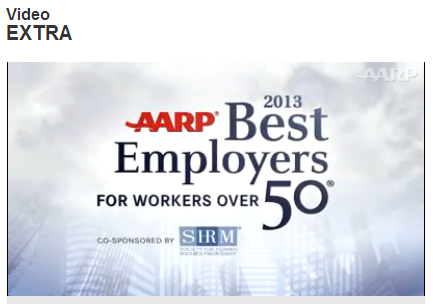 Ever ask someone a simple question about where they work and before you know it, they've gushed for five minutes about how much they love what they do? A great employer can make all the difference between starting Monday with pep in your step - or not.
We're betting that employees who work for one of the AARP Best Employers for Workers Over 50 award winners aren't shy about telling others what makes their workplace so good. This unique awards program, cosponsored for the first time by the Society for Human Resource Management (SHRM), recognizes businesses and organizations that are the opposite of the Office Space movie.
National Institutes of Health (NIH), the world's premiere medical research institution, earned top honors among the 50 winners for 2013. Scripps Health of Southern California was runner-up, and three other health-care related organizations round out the top five: Atlantic Health System of Morristown, N.J. (No. 3); the University of Texas MD Anderson Cancer Center, Houston (No. 4), and Mercy Health System of Janesville, WI (No. 5). Notice a theme here?
NIH, a four-time honoree in the Best Employers program, provides generous health benefits and a "Fit Plus Program" that strongly supports the needs of employees 50 and over who are beginning or maintaining a fitness program. Full-time employees are eligible to move to part-time work on a permanent or temporary basis.
Beyond the top 5 there was more diversity among the winners, from educational institutions (Cornell University, No. 11 and George Mason University, No. 13) to for-profit corporations (Southern Company, No. 22 and Michelin North America, No. 24). A small nonprofit, the YMCA of Greater Rochester, No. 6, proved that you don't have to be big or have big money to create a winning workplace.

Why do these employers care about being a great place to work for people 50+? They know that with demographic shifts and the graying of America, experienced older workers bring value to a multigenerational workforce in a myriad of ways.

Meanwhile, we hope the recruiters and employment specialists who work for the award winners are braced for a deluge of applicants.
For the full list of winners and for more information on the 2013 Best Employers, go to www.aarp.org/bestemployers. Follow us on Twitter via @AARPMoney/Work and see #SHRM13 for highlights, updates and new blog posts on employment and older workers.
Looking for a job or contemplating "what's next" for work? Visit www.aarp.org/work for job-hunting tips and resources and encore career advice . Get connected with employers who value experience via Life Reimagined for Work. You can also find information to help you start or grow a small business .
Employers: To help you build a business case and support a workplace that values experienced workers and all generations, check out AARP's Employer Resource Center. Also learn about the Life Reimagined for Work pledge program.
Also of Interest

Join AARP: Savings, resources and news for your well-being
See the AARP home page for deals, savings tips, trivia and more