Adults 65+ in U.S. Workforce Hits Half-Century High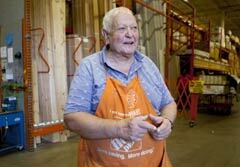 The number of working Americans ages 65 and older is at the highest point in nearly half a century, the Los Angeles Times reports. While older adults still make up a relatively small share of the U.S. workforce, nearly one in five adults over 65 are working or looking for work, and employment in this group has jumped 27 percent since 2007, recently surpassing 7 million.
During the same time period, labor participation rates fell for both younger adults and those in their 30s to 50s.
That last bit has some economists worried. The more older adults who delay retirement, the fewer the jobs available for young adults trying to enter the labor market or for those entering their so-called peak earning years. Yet adults over 65 who remain in the workforce are not only improving their own retirement prospects, they're helping the country's finances by paying Social Security and other taxes at a time when they could be drawing public benefits. It seems we've reached something of an impasse ( unless more jobs are created, stat!).
Mike Vaupel, a 60-year-old meat inspector in Fort Lauderdale, told the Times that he's been considering early retirement, in part because he worries for young people like his son, 34, who couldn't find work for two years. "I'm thinking to myself, 'How are they ever going to get ahead, because they can't get a job, or jobs out there are bad?'" he said. But Vaupel also worries about his own finances, especially since his property value has declined so much over the past few years.

"The best insurance during a recession is a full-time job," he said. "Guys my age or older are sticking around."

For their part, employers are happy to hang on to older workers. A recent study found nearly 75 percent of employers expect a significant portion of their employees to work past traditional retirement age, and only 4 percent believed this was a bad development.
Tuesday Quick Hits:
- Which comes first, depression or dementia? The two diseases have previously been linked, but there's confusion whether depression is an early sign of dementia or a risk factor for developing it. Now, a study suggests it depends on the type of dementia in question. Late-life depression may be an early symptom of Alzheimer's disease. Depression in middle-age or chronic depression may up the risk of developing vascular dementia.
- Dionne Warwick celebrates 50 years in music. To mark her five decades in the music industry, the chart-topping singer is releasing an album featuring new versions of some of her most famous songs.
- Potential new Alzheimer's drug. A compound developed to treat neuropathic pain could lead to a new Alzheimer's disease treatment. In animals, the compound reduced brain inflammation and restored memory. "Development of this compound as a potential drug for Alzheimer's would take many more years, but this is a promising finding worthy of further investigation," said lead researcher Mohamed Naguib.
Photo: Melanie Stetson Freeman/The Christian Science Monitor/Getty Images