Age Wave Brings New Career Options for Boomers
By Deb Silverberg , March 29, 2013 06:30 PM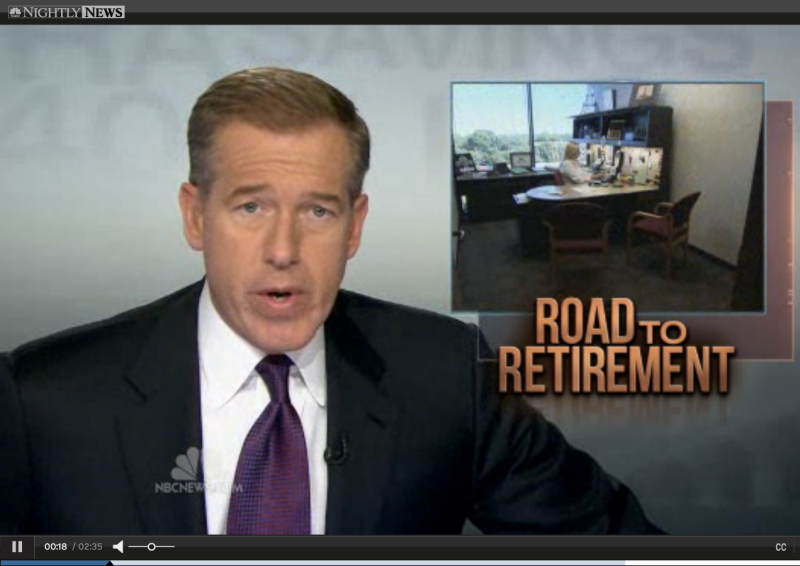 A staggering number of people in the United States remain unemployed, with more workers over age 45 remaining out of work for a year or longer.
As Chris Jansing explains in this segment of the NBC Nightly News "Road to Retirement" series, many Americans - especially people 50+ - are taking advantage of the age wave to reinvent their careers or strike out on their own.
That was the case with Roseann Brown, 59, who now works as a fitness instructor to seniors. She clearly loves what she does, and her enthusiastic class participants are a testament that her work is making a difference.
AARP Job Expert Kerry Hannon thinks that the graying population is a win-win for people who want to keep working and for people who need services. "We have people in their 80s and 90s who need people in their 50s, 60s and 70s to do some jobs, to handle some of the services that are part of dealing with the aging population."
With about 10,000 baby boomers turning 65 every day, and with many generations living hundreds or thousands of miles apart from each other, there is clearly a need for services to help. Here are just a few in-demand jobs:

Senior move manager - These experts help take some of the "down" out of downsizing and assist with planning and moving to a smaller home.
Patient advocate - Helps navigate the maze of doctor appointments, care coordination and insurance.
Home modification professional - Specializes in renovations to support aging in place.

If you're 50+ and interested in starting a business of your own, you're in good company. One in six baby boomers say they want to scratch their entrepreneurial itch and work for themselves at some point, and there are new resources to help.

April has been designated Encore Entrepreneur month by the U.S. Small Business Administration, and the SBA is partnering with AARP to offer free mentoring opportunities. More than 90 mentoring events will be held around the country, and two webinars are available to anyone with an Internet connection.
"Of 76 million people above 50, about half have an interest in entrepreneurship," noted Jean Setzfand, vice president of financial security, in a recent USA TODAY article on encore careers.
Another plus for working longer? More time to let your retirement savings grow. Aspiring entrepreneurs can find additional resources and tools on a special section of AARP's website.
Cheers to greater employment opportunities, whether you're working for yourself or for someone else.
Are you 50+ and contemplating a career change or thinking about becoming your own boss? Find information and tools at www.aarp.org/work - including information for aspiring business owners, job hunters, and those interested in re-careering.

Video courtesy of NBC Nightly News
Also of Interest

Join AARP: Savings, resources and news for your well-being.
See the AARP home page for deals, savings tips, trivia and more.