All In the Family Business
By Stacy Julien , December 01, 2012 06:56 PM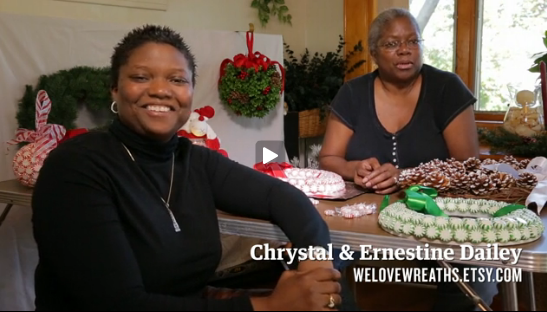 I probably couldn't work with my mother. Don't get me wrong, she's one of the loves of my life. But at this point in her journey, she's ready to do less. I'm the opposite, so I'd annoy her...lovingly so.
It's a different story for Ernestine and Chrystal Dailey, the mother-daughter team who started WeLoveWreaths.com in 2009 via handmade marketplace Etsy.com.
I couldn't wait to check out their hand-crafted all-occasion wreaths, since I've been dusting off the same tired one every December for at least a decade now.
Their year-round creations are made of fun materials like burlap, balloons and daisies. Maybe it was my need for a sugar fix, but I kept coming back to this sweet one made of red and white peppermint candy.

Even sweeter is how Ernestine, 60, and Chrystal, 32, have balanced their relationship as business partners and family. They told me it isn't always easy, but certain things do help.
"Knowing our roles and doing what we are both good at makes it work," says Ernestine, who is enjoying this encore career after retiring from the New York City Transit Authority.
Chrystal cites their generation gap when it comes to technology as a good example. Social media marketing isn't Ernestine's forte, so Chrystal handles that element of the business. Ernestine is the creative force who sees their designs through to execution.

If creating a start-up with a sister, cousin, or uncle is something you want to do, you'd be in great company. According to the Small Business Administration, 90 percent of all U.S. businesses are family-owned.

Family businesses that succeed know how to weather the emotional storms that blow in from time to time. Here are highlights adapted from tips the SBA says to consider before you set up shop with a relative.

Do your homework, and have clear roles. Make sure you have a clear vision for the business.
Decide in advance how you'll squash the squabbles. Disagreements are inevitable, so have a plan on how to handle problems when they do arise.
Determine a plan in case other family members want to join. If a relative needs a job but doesn't quite fit the mold, you might want to give them training and a shot at success if you can -- but agree on criteria ahead of time.
As the business grows, consider hiring a non-family member to manage operations. This enables founding family members to play to their strengths.
What's next for Ernestine and Chrystal? For now, the Brooklyn-based mother-daughter duo are content to sell online and don't have plans for bricks and mortar. But if they did, I'd take my own mom and stop by. ###
Want to follow your passion and become your own boss? See aarp.org/startabusiness for resources and tips, and join the Reinvention Group in our online community.
Dress Your Door video courtesy of Etsy.com/JeremyWorkman.