Behind the Scenes: Filming Jenny Bowen for Your Life Calling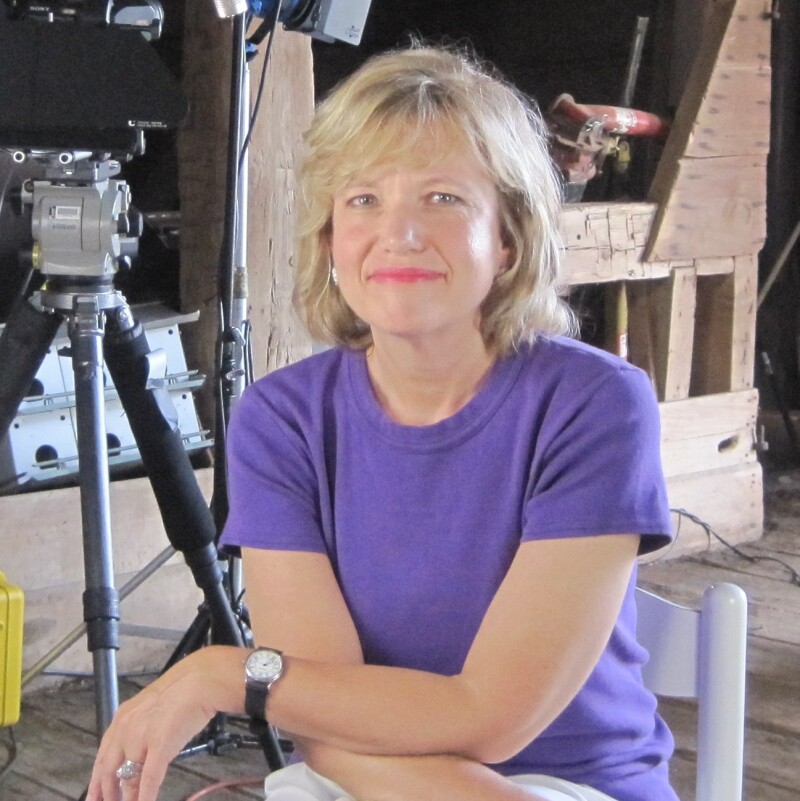 The following is a guest post by Kim Sedmak, Executive Producer of "Your Life Calling TODAY" with Jane Pauley. You can watch the Your Life Calling series here.
It's a good thing Jenny Bowen is a former filmmaker. She and her husband Richard didn't blink an eye when I told her our "crew call" to set and light for the TODAY show interview with Jane Pauley was 5 a.m.! On that early chilly morning last December, Jenny opened the door to their Berkeley, California home in her flannel pajamas. Our small army of production professionals got to work transforming her Asian inspired living room into a set.
The night before the TV shoot, Jane Pauley hosted the Purpose Prize event at Cavallo Point in San Francisco. Under an enormous white tent, with high speed winds blowing so hard we all thought it might collapse; Jenny received the 2011 Purpose Prize for Intergenerational Innovation sponsored by AARP. The prize comes with a $100,000 grant to be used for furthering Jenny's work on behalf of caring for Chinese orphans. Sponsored by Civic Ventures, the Purpose Prize, now in its seventh year, is the nation's only large-scale investment in people over 60 who are combining their passion and experience for social good.
I keep telling everyone, this story is unlike any other from our series "Your Life Calling." You immediately sense an ease and a flow about Jenny that obviously keeps her centered. I couldn't help catch a glimpse of Richard greeting her with an impassioned kiss and an early morning hug in the front hall. He's the quiet and strong partner who has supported and believed in Jenny's mission right from the very beginning. His eloquent book Portraits from a Chinese Orphanage has been front and center on my office credenza since I started working on this segment. It's a testament to "Half the Sky" and their work as a team.
As dawn began to break and the coffee and bagels arrived, there was a buzz beginning to transcend the space as we craftily worked to take two medium sized rooms and make the viewer feel as though Jane and Jenny might be in China.
By the time Jane arrived around 11 a.m. we were in full swing. After shooting 21 segments with her, the one thing I know for sure, she comes with a lot of stuff so we need to be prepared to place her somewhere. This shoot -- Jane's Ground Zero was Jenny's master bedroom. An assortment of make-up bags, hair brushes, notes, lap top computer, more brushes, gels, a flat iron, and sprays all come flying out of her bags. We know Jane has arrived!
I dare say after the interview, all of us were even more amazed by Jenny and her story. How someone with no formal education in childcare, no foreign policy experience and doesn't speak Chinese could persuade the Chinese government to let a middle-aged American woman take over directing the care for thousands of children living in government institutions. It is astonishing!
Jane's schedule unfortunately precluded her from traveling to China. However, this story could not be properly told unless we saw Jenny there in action. So in January we hired a Chinese crew in Beijing to accompany Jenny as part of her monthly trip to China. We shot far more than we were able to use in the TODAY show piece. However, the pictures tell the story and Jenny's infusion of loving and nurturing energy through the work of "Half the Sky" is working miracles. Jenny Bowen is a filmmaker who knows most definitely how to create a happy ending!
For more on Jenny's story, read John Briley's post for the backstory.