Workplace Age Bias Hits Home for Boomers
[Updated 6/24] Some argue that the Great Recession is in the rear-view mirror. That's not the case if you're a layoff victim over a certain age and if you've been unemployed for nearly a year - or longer.
Age bias is a concern for around two-thirds of workers over 45, as reported in The New York Times Bucks Blog and in MarketWatch's Working Retirement column. The stories cite figures from Staying Ahead of the Curve 2013: AARP's Multicultural Work and Career Study. It paints a revealing picture of workers ages 45-74: their reasons for working, perceived job security, differential treatment received because of age, their ideal work scenario, the challenges they face, their plans for retirement, and more.
Also worth a look: an Infographic on the the "new normal" for experienced workers, and a personal perspective on age bias against the long-term unemployed via this Inside E Street clip.
A recent poll showed that 8 in 10 older voters say that it's important for Congress to take action and restore workplace protections against age discrimination, and we're guessing there will be more interest in legislation given a late June Supreme Court ruling.
On the good news front, more employers are beginning to see the value of hiring and retaining older workers.
The new co-sponsor for the Best Employers for Workers Over 50 Award has some pull in executive suites when it comes to charting employment policies. AARP and SHRM, the Society for Human Resource Management, announced the top 50 winners at SHRM's annual conference (and we're guessing that the recruiters at these companies will see an influx of applicants).
Also of note is Life Reimagined for Work, which features job listings from employers who have signed a pledge to level the playing field for experienced workers, as well as a LinkedIn group.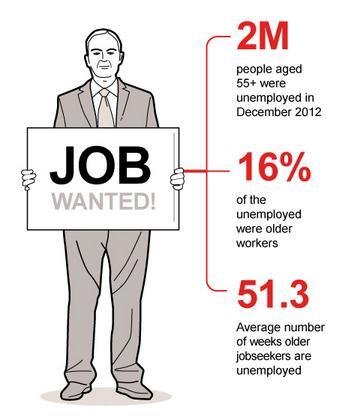 Of course, efforts like these may be small comfort to laid-off workers over age 55 who remain unemployed longer - about 51 weeks on average - compared to 37 weeks for younger workers. (See resources to help job-hunters below.)
What will it take to end age bias? What will help ease the worry and address the realities of age discrimination in the workplace? Many people think it will take a more robust economic recovery.
"A stronger labor market where there is a greater demand for workers of all ages and experience levels will make a difference," says Jean Setzfand, AARP's vice president of financial security.
For the sake of job seekers of all ages, let's hope that unemployment will continue to fall and that payrolls will continue to rise. And let's hope that more employers will aspire to be on the Best Employers for Workers Over 50 list.
###
Looking for a job or contemplating "what's next?" Visit www.aarp.org/work for job-hunting resources and encore career advice. Also check out our list of Best Employer winners and job openings with employers who have signed a pledge to level the playing field for experienced workers, or find information to help you start or grow a small business.
Employers: To help you support a workplace that values experienced workers and all generations, check out AARP's Employer Resource Center. Also learn about our Best Employers for Workers Over 50 awards program co-sponsored by SHRM, and the Life Reimagined for Work pledge program.
Also of Interest

Join AARP: Savings, resources and news for your well-being
See the AARP home page for deals, savings tips, trivia and more