Retiring Later? Join the Club
By Patrick Kiger , May 17, 2013 11:27 AM
The brutal economic downturn that began in 2008 and the subsequent sluggish recovery has thrown a cold splash of reality on many Americans' dreams of a comfortable, stress-free retirement. So it's probably not much of a surprise that Americans are now retiring at an older age than they did just a few years ago, and that most of us expect to keep working to age 65 or older.
The big surprise, though, according to Gallup's newly released annual economic and personal finance survey, is that the upward creep in retirement may not have that much to do with short-term economic woes. Instead, it may be an indication of a larger, more fundamental shift in how Americans live, work and age.
Gallup's survey, conducted in mid-April, shows that the average age at which U.S. workers retire has increased four years over the past two decades: from 57 in 1993 to 61 today. But three-quarters of that upward shift occurred in the 1990s and early 2000s, according to Gallup's data.
Gallup also found that workers' predictions of their own retirement age have shifted even more dramatically. In 1995, nearly half of non-retired Americans - 49 percent - believed that they would retire before age 65, while 32 percent expected to retire at 65 and just 14 percent anticipated having to wait past 65. Today, 37 percent of workers say they will retire at age 65, while another 26 percent think they will work beyond that age. Only 26 percent think they will retire before they reach 65.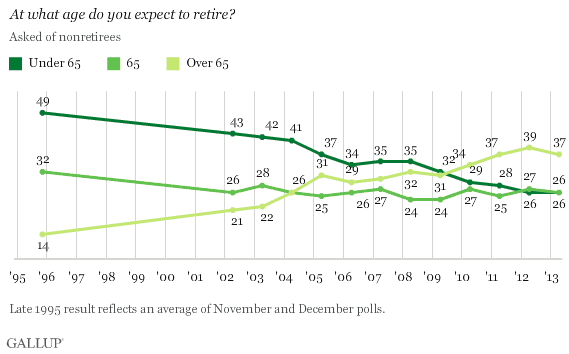 The closer they are to age 65, the more likely workers are to project a later retirement age. More than half of nonretirees ages 58 to 64 expect to retire after age 65, compared with 36 percent of nonretirees ages 50 to 57, 38 percent of those between 30 and 49, and just 26 percent of those younger than 30.
Those numbers are basically in line with research by the Urban Institute, which shows that the percentage of men between 62 and 74 who work has risen by 11 percentage points over the past couple of decades, from 27.3 percent in 1993 to 38.0 in 2009. The proportion of women in the same age group who are still working increased from 19.9 percent to 28.1 percent, a comparable rise.
One reason that people are envisioning a delayed retirement, of course, is money. Some 61 percent of non-retired workers say they are concerned abut having enough savings to retire comfortably, according to Gallup. But there's also substantial evidence that many older workers are staying on the job because they get satisfaction from it. Boston College's Sloan Center on Aging and Work, for example, cites data from the mid-2000s showing that nine of 10 older workers enjoy their jobs.
If you're thinking about retiring, but not quite ready, how about taking a part-time job, or starting a business?
Also of Interest

Join AARP: Savings, resources and news for your well-being
See the AARP home page for deals, savings tips, trivia and more