Cashing Out Your 401(k) and Living Dangerously
By Carole Fleck , February 19, 2014 02:07 PM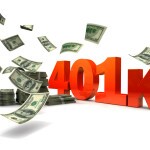 We all know that 401(k) savings plans are designed to help us sock away money for our old age. Increasingly, workers are tapping those funds for loans or cashing out altogether. Two reports released this month suggest that our retirement security could be undermined by our pattern of using those savings to ease our financial stress today.
An estimated $6 billion annually seeps out of U.S. 401(k) plans because loans taken against them were not repaid fully, according to a paper by the Pension Research Council of the Wharton School of the University of Pennsylvania. About 86 percent of workers with loans defaulted when they left their jobs, voluntarily or involuntarily. If a loan isn't repaid within 60 to 90 days of termination, it's considered a withdrawal and plan holders get hit with a 10 percent penalty on that amount, plus taxes. (People age 59 1/2 or older aren't subject to the 10 percent penalty.)
About 90 percent of 401(k) plans permit workers to obtain loans, and nearly 40 percent of employees did just that over a five-year period, the researchers said. Interestingly, workers were more likely to take out a loan when plans allowed for multiple loans.
"Employers' loan rules have a strong endorsement effect on borrowing patterns. In plans allowing multiple loans, participants are more likely to borrow and take out larger loans," the researchers said.
Researchers Timothy (Jun) Lu, Olivia S. Mitchell, Stephen P. Utkus and Jean A. Young used 2012 data from the Labor Department to estimate the $6 billion in 401(k) funds lost from defaulted loans. They also analyzed borrowing and default patterns in 882 workplace plans involving 900,000 participants from July 2004 through June 2009.
When it comes to loan defaults, little has changed. Young, one of the paper's authors who is also a senior research analyst at the Vanguard Center for Retirement Research, says about 85 percent of workers last year defaulted on their 401(k) loans when they switched jobs. Despite the economy's ups and downs, "we've not seen a big shift," she says.
Among the paper's other findings:

About 20 percent of employees had one or more loans outstanding at any given time.
Most of the loans are for "general purposes" like paying debt.
Borrowing was highest among workers ages 35 to 45.
Workers with both higher incomes and higher non-retirement savings borrowed the biggest fraction of their 401(k) balances.
In similar news, Fidelity Investments recently released data involving the 401(k) plans it administers. Last year, 35 percent of all participants who left their jobs cashed out their accounts, rather than keeping their 401(k) plans with their previous employer, rolling them over into another tax-deferred retirement account like an IRA, or moving the assets to the new employer's plan. In 2009, when Fidelity began to track cash-out data, 32 percent of workers had done that.

The average 401(k) balance that was cashed out last year was nearly $16,000, Fidelity says.
While cash-outs are most prevalent among younger workers, anyone who takes the money without reinvesting it loses out on years of compounded growth.

Here are some tools you can use to shore up your retirement savings plans: