Dear Abby Weighs In on Older Workers Debate
By Carole Fleck , September 09, 2013 04:40 PM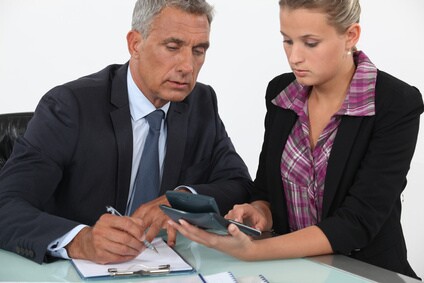 The debate over older workers staying on the job longer, and crowding out younger employees, won't go away. In a recent Dear Abby column, "Disgusted in Columbus, Ohio," blasted older workers for hanging onto their jobs "so they can live lavish lifestyles" at the expense of younger workers who don't advance in the workplace, or worse, get laid off.
Yet as Dear Abby pointed out, many older adults stay on the job these days just to survive. During the financial crisis and recession, older workers were hard hit when the stock market tanked. Not only did so many on the verge of retirement lose a big chunk of their retirement savings, but they also had relatively few years left in the workplace to build back savings. As a result, many opted to stay on the job longer to try to recover financially.
Studies suggest that these assertions, which pit older and younger workers against each other, are just plain wrong. Recent research, including a Pew Charitable Trust report, found that older workers who remain on the job do not take away opportunities for younger adults. Erin Currier, a project manager at Pew, says researchers looked at employment data over 35 years (from 1977 to 2011) and found that a one-percentage-point increase in employment among workers ages 55 to 64 was associated with a 0.2-percentage point bump in the employment rate for workers ages 25 to 54.

In other words, if the job market is strong, the economy can grow and benefit workers of all ages.

Currier also pointed out that jobs held by older workers tend to require more experience and knowledge. So when older adults do leave the workforce, it doesn't necessarily mean that young workers will be hired to fill those positions.
Meanwhile, the finances of older workers shouldn't inspire envy. It's true that older workers kept their jobs during the recession more so than younger peers and continue to make strides. (Workers ages 20 to 24 made up 9.5 percent of all workers in mid-2007, just before the recession hit, and that figure remains about the same today. The share of workers 55 and over grew from 17.8 percent in mid-2007 to 21.5 percent now).
But when employers cut workers 55-plus from their payrolls during the downturn, it took them about a year on average to find work, almost twice as long as younger workers. And when they did land a job, often it was for lower wages. Some reluctantly settled into retirement and took their Social Security benefit early, at a permanently reduced rate, because they couldn't find work. Many tapped their retirement savings just to meet their daily expenses. And we already know that boomers weren't great at saving enough for retirement in the first place.
It's been four years since the recession officially ended yet meeting our bills continues to be a challenge. A CareerBuilder survey of nearly 3,900 workers found that 43 percent of those ages 45 to 54 - the most of any demographic - said they were struggling to pay the bills and lived paycheck to paycheck. Of workers 55-plus, one in three (34 percent) said the same.
Some older workers feel the squeeze because they're caring for elderly parents and helping out their adult children. According to an AARP survey of 1,200 Americans age 45 to 65, and cited in The New York Times, nearly one in five said they expected to provide financial support to their children. But few expected to get help from their kids.
The lifestyles of older workers just don't seem lavish to me.
Photo: Sal Falko/Flickr
Also of Interest

See the AARP home page for deals, savings tips, trivia and more