Why Older Workers Can't Get a Break
By Carole Fleck , July 22, 2013 02:00 PM
For older job seekers who couldn't catch a break in recent years, there's new research that may not come as much of a surprise.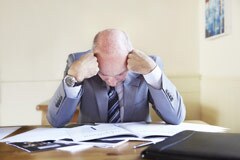 During tough economic times, age discrimination laws aren't likely to help if you didn't get a job because of mistaken beliefs about older employees, a new study finds.
Researchers examined how older employees fared during and after the recession in states that had the toughest age discrimination laws - stronger, even, than federal law. It turns out that those tougher state laws only seemed to work in a normal economy, not in a downturn.
Here's why: There are fewer jobs available in a downturn and, naturally, more people vying for them. So hiring patterns that may in fact violate age discrimination laws are harder to discern or prove, according to the study, which was published by the National Bureau of Economic Research.

"We find very little evidence that stronger age discrimination protections helped older workers weather the Great Recession, relative to younger workers," the researchers said. "The evidence sometimes points in the opposite direction, with stronger state age discrimination protections associated with more adverse effects of the Great Recession on older workers."

In fact, the study goes on to say there is "clear evidence" that jobless rates for older workers were higher in states with stronger age discrimination protections, especially in the first 18 months or so after the recession ended. The situation was even worse for older women.
In 29 states and the District of Columbia, age discrimination laws were stronger than federal laws and provided for compensatory or punitive damages if claims were proven. Researchers zeroed in on those states when they evaluated jobless rates and hiring patterns for older workers. They didn't examine details of age discrimination claims or their outcomes, according to a review of the study by Huffington Post.
Laurie McCann, a senior attorney and expert in age discrimination for AARP, says it's challenging to prove age discrimination in hiring these days because so much of the application process is done online and without face-to-face contact. Hiring managers may dismiss your application based on graduation or other dates that reveal your age. And you're almost never told why you weren't hired.
In many instances, employers are even requiring job seekers to list their date of birth on online applications, and if they fail to put in that information, they can't move to the next screen and finish the application process. AARP has asked the U.S. Equal Employment Opportunity Commission to see if such online hiring practices have a disparate and adverse impact on older workers.
The number of complaints filed with the EEOC surged during the recession in 2008 and remains much higher than a decade ago.
"Every time the economy takes a downturn, [age discrimination] charges take an upturn," McCann says. "Older workers are very vulnerable in a down economy" because of perceptions that they cost more or false beliefs that they're not as productive.
An AARP survey this year found that nearly one in five workers ages 45 to 74 believed that they hadn't gotten hired as a result of their age.
Meanwhile, winning an age discrimination suit has become much more difficult because the standard of proof is higher. Before the U.S. Supreme Court case, Gross vs. FBL Financial Services in 2009, employees had to show that age was a factor in contributing to the layoff. Now the employee has to demonstrate that age was the determining factor for the layoff, a tougher standard, reports The New York Times.
Federal age discrimination laws prohibit employers from treating job applicants or employees who are over age 40 differently and less favorably because of age. (The law applies to employers with 20 or more workers.)
To learn more:

Read AARP's fact sheet on age discrimination.
If you think you've been discriminated against, file a complaint or learn about the process from the EEOC or call 800-669-4000.
Not sure if you have a valid claim? Go to the online assessment tool to get an initial evaluation.
Want to be part of the fight against age discrimination? Learn more about the Gross decision and the Protecting Older Workers Act,, then contact your U.S. senators and representatives and urge them to help fight age discrimination by supporting the Protecting Older Workers Against Discrimination Act.
Photo: Liam Norris/Getty Images
Also of Interest

Join AARP: Savings, resources and news for your well-being
See the AARP home page for deals, savings tips, trivia and more