Employers Want to Hang On to Boomer Workers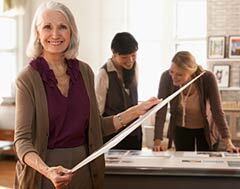 In another blow to conventional wisdom, a new survey finds many employers actively want older employees to keep working past 65. Only 4 percent of of the 412 employers recently polled by BMO Retirement Services said they think extended careers will be bad for their company. Nearly half said they think boomers delaying retirement will be a net positive for employers.
See Also: Older Workers Laid Off In Recession Still Struggle to Find Comparable Work >> 
"Although some companies will continue to offer buyouts and retirement packages to their older staff, our survey suggests that many businesses will be pleased to retain selected boomer employees," said Todd Perala, director of relationship management at BMO.

There appears to be a growing recognition in corporate America that employees in their sixties possess valuable institutional experience and expertise."

Nearly three-quarters of the employers surveyed expect a significant portion of boomer employees to keep working past traditional retirement age. "As life spans increase, retirement at age 65 may increasingly be seen by employers and employees alike as a relic from the prior century," said Perala.
Thursday Quick Hits:

Quietly rocking 50th anniversaries. Bob Dylan, the Rolling Stones and The Beatles can all celebrate 50 years in the musical business this year. So where's the fanfare? They don't need it, Josh Jackson, Paste magazine editor in chief, surmised to USA Today. "There are no artists bigger or more iconic. They're still in the public eye. The Beach Boys needed a 50th anniversary tour to call attention to themselves."
Older women more charitable. A new report on philanthropy finds boomer and senior women are more likely to donate to charities than men; they also give more generously.
Photo: SelectStock/Getty Images