Fed Report Paints Dreary Retirement for Some
By Carole Fleck , August 11, 2014 12:03 PM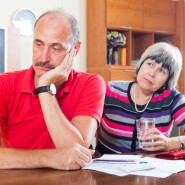 Five years after the Great Recession, many Americans say they're still struggling to get by financially. Nineteen percent of adults ages 55 to 64 say they have no retirement savings or pensions to fall back on, according to a survey by the Federal Reserve.
Also troubling was that an additional 20 percent of people age 60 and older say they've given no thought at all to planning for their retirement. That was also the case for about 19 percent of people ages 45 to 59.
>> Sign up for the AARP Money newsletter
Sara Rix, a senior strategic policy adviser with the AARP Public Policy Institute, says the Fed survey reinforces what other studies have shown for years - that people may not be able to maintain their standard of living once they leave the workforce for good.

"Many Americans near retirement age have not saved adequately - often because they lack access to a retirement savings plan or because they have little extra income to save," Rix said.

"Continuing to work may be one of the few options available to those who are not financially prepared for retirement, and many older Americans expect to do just that ... but it doesn't always work out," she said. "Far fewer Americans actually work in retirement than say they expect to, often for reasons beyond their control. For those with little or no retirement savings and dim job prospects, a much reduced standard of living in retirement may be the sad outcome after a lifetime of work."
About half of full-time workers, and even more part-time workers, don't have access to employer-provided retirement savings plans. And not surprisingly, those with higher incomes were more likely to save than lower earners, the survey found.
So how are current retirees paying for their golden years? About 75 percent cited Social Security, the survey found. Some 44 percent said pension plans. Nearly 32 percent had savings outside of a retirement account. Almost 29 percent had an IRA and nearly 19 percent said they were relying on a 401(k)-type plan.
The Fed commissioned the survey last year to better understand how consumers perceive their financial well-being and how certain money matters shaped their decision-making and spending patterns. Results of the survey, which polled more than 4,000 people, were released last week.
>> Get discounts on financial services with your AARP Member Advantages.
Although the recession officially ended in June 2009, its effects are still reverberating through many households. Nearly 40 percent said they were barely managing to get by. And more than one-third said they went without some form of medical care in the last year because they couldn't afford it.
The Fed's findings contrast with those of another survey released last week by Baltimore-based T. Rowe Price. The investment firm asked recent retirees how they were faring now that they had been retired for one to three years. Most said they were living on 66 percent of their preretirement income on average - $58,000 annually - and reported that they were very satisfied. The retirees surveyed had a 401(k) or IRA and median household savings, including any home equity, of $473,000. They also said they had adjusted their spending in retirement.
Photo: Jack F/iStock
Also of Interest

See the AARP home page for deals, savings tips, trivia and more