Guess Who's Working From Home?
By Carole Fleck , February 25, 2014 11:35 AM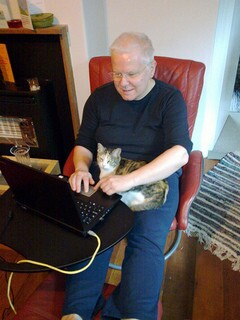 If you think women work from home more than men, maybe helping a child with homework after school or cooking dinner in between phone conferences, you'd be mistaken.
More men telework and more women spend time in the office. And of those who work remotely, about 1 in 3 have no children, according to a myth-busting report released this week by the Madison, N.J., consultancy Flex+Strategy Group / Work+Life Fit Inc.
The researchers surveyed 556 full-time employees in December to analyze new work trends, including where work gets done.
Among the findings:

About 1 in 3 do most of their work away from the office, such as at home or in coffee shops.
About 75 percent of teleworkers are men.
Almost half of teleworkers say they're more likely to get training or guidance about work and life balance versus 35 percent of office workers.

Now to the age factor. Contrary to what you might think, a majority of older folks are not working from home. In fact, it's pretty even across the board. About 30 percent of remote workers are boomers (age 50-plus) or Gen Xers (ages 30 to 49); 35 percent are in Generation Y (ages 18 to 29), the researchers said.
Many companies that offer flexible work arrangements find that it gives them an edge in recruiting and retaining employees. In Staying Ahead of the Curve 2013: The AARP Work and Career Study, workers cited a flexible schedule (72 percent), an opportunity to work part time (48 percent) and the ability to work from home (36 percent) as essential parts of an ideal job.
Photo: CelesteH/flickr