Hiring Managers Prefer Older Workers to Millennials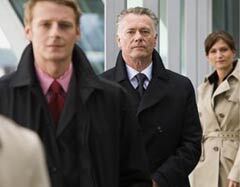 Employers would rather hire workers over 50 than those under 30, according to a new survey. Hiring managers said " mature workers" were more reliable, more professional and had better writing skills, among other benefits. Younger workers were seen as having a less positive work ethic and being less skilled at time management. They did have the edge, however, when it came to creativity and technological savvy.
The survey, from human resources consulting firm Adecco, questioned 500 hiring managers about their opinions of workers in different age groups.
Overall, three times as many managers said they were likely to hire a worker age 50 or older as they were to hire a Millennial (aka Gen Y) employee. The Millennial generation includes those born from roughly 1982 through 2000, making the oldest members of this generation 30 years old.
Workers in the 50-plus group were seen by hiring managers as possessing a bevy of positive traits. Respondents described older workers as reliable (91 percent), professional (88 percent), good listeners (77 percent), good problem solvers (61 percent), strong leaders (75 percent) and possessing a "positive work ethic" (75 percent).
Meanwhile, only 2 percent of respondents described Millennial workers as reliable and only 5 percent think they are professional. Twenty-three percent said Millennials are good problem solvers, 22 percent said they're good listeners and 15 percent said they have a positive work ethic. Just 10 percent said Millennials are good leaders.
The employers surveyed also thought older employees have better writing skills: Just 9 percent said mature employees need to become better writers, while 46 percent said Millennials need to. And despite being raised in the multitasking era, younger workers were seen as less skilled at time management, with 46 percent of hiring managers saying they needed to improve in this area (compared with just 10 percent who said older workers should manage time better). Younger workers were also seen as more likely to post inappropriate content online and to dress inappropriately for an interview.
Millennials were seen as having a few advantages on older workers, however. Hiring managers were more likely to describe them as creative (74 percent versus just 17 percent for older workers), good at networking and good with technology. Only 5 percent said Millennials need to develop stronger tech skills, while 72 percent think older workers do.
Wednesday Quick Hits:

- Major Medicare doubts. According to the Employee Benefit Research Institute, 80 percent of American adults under 65 doubt that Medicare will provide affordable health care by the time they're eligible; three-quarters doubt the program will cover the medical treatments they need.
- Class of 2008 flocked back to parents' homes. The number of 18- to 30-year-olds living with their parents rose drastically between 2007 and 2011, according to a new analysis from the University of Minnesota Population Center. Faring worst were 26-year-olds, whose ranks of boomerang children rose by 46 percent during this period. In contrast, the number of 23- or 25-year-olds living at home went up 25 percent; the number of 19-year-olds living with parents rose just 3.6 percent; and the number of 27-year-olds at home actually dropped by 16 percent.
Photo: Image Source/Aurora Photos