Holiday Hiring Season Should Be Jolly
By Carole Fleck , September 17, 2014 05:33 PM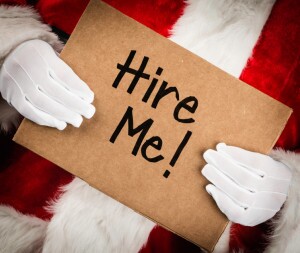 If you're looking for work this holiday season, there's reason to be ho-ho-hopeful. Employers are expected to hire more than 800,000 seasonal workers as the economy continues to improve and consumer spending picks up, according to an annual holiday hiring forecast.
John A. Challenger, CEO of the outplacement consultancy Challenger, Gray & Christmas in Chicago, which issued the forecast, says the hiring spree will take place in October, November and December. If his projections are correct, it would be the first time since 1999 that hiring levels surpassed 800,000 people for the holiday season.
The shipper UPS said it plans to hire up to 95,000 seasonal workers this year, as a surge in deliveries is expected from online shopping. FedEx Corp. said it expects to hire at least 50,000 seasonal workers — more than double last year's hiring level. Kohl's Corp. said it likely will add more than 67,000 seasonal workers to its payroll this year, a 15 percent increase over 2013.
Last year some 786,200 workers were added to retail payrolls during the holiday season, the most since 2000, Challenger says. In fact, holiday hiring has improved every year since 2008, when the recession swept through the country.
Paul Ashworth, chief U.S. economist for Capital Economics, says consumer spending will be strong this holiday season because of the improving jobs picture. Employers added an average of about 200,000 workers each month so far this year, pushing down the national unemployment rate to 6.1 percent. He also credits rising stock portfolios and higher real estate prices for boosting consumer confidence and spending.
Ashworth feels positive about the prospects for full-time work, as well, saying that businesses will continue hiring at a pace of about 200,000 jobs through the end of 2014.
According to Michael Erwin, a senior career adviser at Careerbuilder.com, seasonal hiring is no longer just about retail jobs. He says many companies hire temporary office or customer service help during the holidays because that's when their permanent employees often take their vacation days.
He advises that a seasonal job could turn into a full-time one, "so put your best foot forward and impress them in the time you're working there."
>> Get discounts on financial services with your AARP Member Advantages.
For those looking to make extra cash this holiday season, Challenger offers this advice on how to land a job beyond retail opportunities: "Restaurants, caterers, movie theaters, and other entertainment and leisure venues tend to see increased business during the holidays."
You may want to consider these tips, too:

Visit online job boards for postings, or walk into a store and ask if seasonal work is available — and start your search early.
Research the company and its merchandise, to impress hiring managers.
Be flexible when it comes to hours, as shifts will likely include weekend and night work.
Photo: CatLane/iStock
Also of Interest

See the AARP home page for deals, savings tips, trivia and more.