This Man Would Be Thankful to Find a Job
By Deb Silverberg , September 14, 2012 04:49 PM
"I'd do anything to get a job" - or "I'd give anything to land a job."
Millions of people have said those words. Vincent Giordano has taken it a step further. I heard about Vincent and got his contact information via this ABC News story by reporter Alan Farnheim.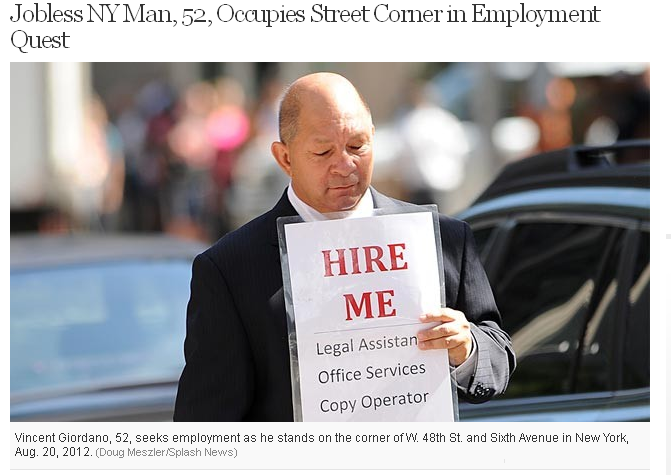 This summer, the unemployed law firm office support assistant - with expertise running large, complex duplicating machines like you'd see at some copy shops - decided he needed to get noticed. Vincent went to busy New York City street corners, sandwich-board style, handing out his resume to business people who were heading to work.
Vinny, as he's known to his friends, explained to me on the phone that finding a job is his job.
The good news: he's gotten some leads and has had several interviews. The bad: none of the interviews have panned out so far. Vinny is typical of long-term unemployed people over age 50, who tend to have a harder time finding jobs after a layoff than their younger counterparts.
Vinny has tried to get as many irons in the employment fire as possible, and has applied to firms and registered with temp agencies.
Here's the rub. On several occasions, Vinny met people who offered to talk to their Human Resources departments or hiring managers. They took his resume to HR and later learned that the firm uses a staffing agency Vinny had registered with. Because Vinny's resume was with the agency first, a 'finder's fee' enters the picture...and no dice. "Budgets are tight all around," he's been told. Or, "I wish we could, but now it's going to cost us to hire you."
Is there a law firm in Manhattan who will admire his cajones, chutzpah, call it what you want - and interview Vinny...and if he's the right fit, will they offer him a job anyway? Is there a staffing firm that might offer to waive their fee? Or will someone at a firm that doesn't work with an agency contact Vinny and share his resume with people who matter? By the way, he can be reached at mrvgiordan at yahoo.com.*
If you were unemployed for many months, would you be brave enough to do what Vinny has done to get his resume out there?
And by the way, Vinny -- we're pulling for you. ###
Looking for a job? Find job search information, tools and resources at www.aarp.org/work and explore Work Reimagined, a new resource for experienced workers. AARP Foundation offers tools to help lower-income older workers navigate the job search process and get coaching and job training.
*Including Vinny's e-mail address as a live link in this post could make him susceptible to automated spam. Vinny can be contacted the same way you would anyone else who uses a Yahoo mail account; use mrvgiordan followed by the @ sign, etc.