Jobless Rate Falls Below 8 Percent; Some Older Workers Saw Gains
By Carole Fleck , October 05, 2012 10:15 AM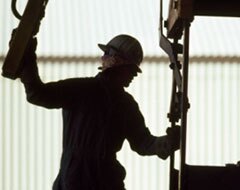 A sharp and unexpected drop in the unemployment rate -- to 7.8 percent in September, the first time it's been below 8 percent in nearly four years -- helped some groups of older job-seekers but not others.
Workers ages 45 to 54 fared particularly well: The rate for men fell in September to 6.1 percent from 6.5 in August. For women, the rate slipped to 6 percent last month from 6.3 percent the previous month.
But the jobs situation was more of a mixed bag for those 55-plus. Women's unemployment rate tumbled to 5.6 percent in September from 6.2 percent in August. For men, the rate climbed to 6.4 percent in September from 6.1 percent. Overall, the jobless rate for people 55-plus stood at 5.9 percent last month, unchanged from August.
Economists were taken by surprise by the Bureau of Labor Statistics report. Many had expected the national unemployment rate to tick up from 8.1 percent in August. But instead the rate fell to 7.8 percent, more than a full percentage point below the 9 percent level of September 2011. It was last below 8 percent in January 2009.
It was the first time in the Obama presidency that the jobless rate had fallen below 8 percent.
Jobs growth is a major focus of the presidential campaign. President Obama and former Massachusetts governor Mitt Romney squared off Wednesday night in the first of three debates, with jobs and the economy figuring prominently.

While the number of jobs added to the economy in September (114,000) was tepid, the government's separate household survey, which measures employment, showed that a massive 873,000 people reported they found jobs.
There was other good news: The BLS revised up by 86,000 the number of jobs created in July and August, signaling the economy was improving, though slowly.

Employers may have done a bit more hiring, yet older workers continued to spend even longer periods looking for work. The average duration of unemployment for those 55 and older rose to 55.7 weeks in September from 52.7 weeks in August. For job seekers under 55, the time it took to find work also increased but only slightly, to 37.2 weeks last month from 36.1 weeks in August.
Likewise, there was a big jump in the number among older workers who'd been out of a job for at least a year in September, to 54 percent last month from 50.9 percent the month before.
If you're looking for a job, check this out: AARP has launched a new, free service called Work Reimagined. The social networking site partners with LinkedIn to help you find information and job openings.
Photo credit: Michael Melford/National Geographic/Getty Images
Follow me on twitter @cfleck1