Jobless Rate Holds Steady For Older Workers
By Carole Fleck , December 07, 2012 10:56 AM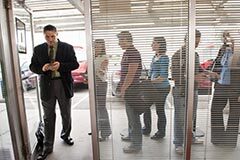 Companies hired more workers than expected in November despite superstorm Sandy's wrath in parts of the East, though unemployment levels for older workers held steady at 5.8 percent, the government reported Friday.
Men 55 and older saw the jobless rate edge up one-tenth of 1 percent to 6.2 percent last month. Still, it was an improvement from one year ago, when the rate was 6.4 percent.
For older women, the unemployment rate in November declined to 5 percent from 5.5 percent. It had been 5.8 percent in November 2011. The rate for women was more volatile month-to-month because their figures were not seasonally adjusted.
Overall, employers added 146,000 workers to payrolls last month, many more than economics predicted. Nationally, the unemployment rate fell to 7.7 percent from 7.9 percent in October, according to the Bureau of Labor Statistics. It was the lowest level since December 2008.
The labor force participation rate declined by two-tenths of 1 percent in November, which presumably helped to push down the jobless rate. Economists say the decline was probably due in large part to the weather, which prevented people from working.
For those on the unemployment rolls, the hunt remained elusive. More than 12 million people were out of work; of those, 40 percent have been unemployed for six months or more. For jobless workers 55-plus, a whopping 54 percent have been without work for at least that long.
Numerous factors weighed on November's report, making the status of the economy and the jobs market less clear. Superstorm Sandy knocked out power and transportation networks from Maryland to Connecticut in late October, forcing factories and other businesses to temporarily shut down into November while employees applied for jobless benefits.
Though the BLS said Sandy didn't appear to affect jobless figures, some economists estimated that 86,000 jobs were lost as a result of the storm's wrath.
The ongoing debate over tax hikes and spending cuts also may have stifled jobs growth last month. Employers seemed to hold off on hiring until after the new year as fiscal cliff negotiations continued to create a climate of uncertainty.
But consumers may be less daunted.
"With the fiscal cliff looming over our heads, the decrease in the unemployment rate is good because it gives consumers more confidence to go out and spend, regardless of the cliff," says David Abuaf, chief investment officer at Hefty Wealth Partners, Auburn, Ind. "And consumer spending is always required for [economic] growth."
The makers of Twinkies also weighed on the jobs picture when Hostess, engulfed in a labor dispute, filed for bankruptcy and shed nearly 19,000 jobs.
Still, the overall jobs picture improved this year over last. The economy added an average of 160,000 jobs a month to date, says Alan Levenson, chief economist for T.Rowe Price. He predicts somewhat stronger growth next year.
" The good news is that we are working through things like the overbuilding in the housing market. Housing-related industries will begin to add jobs through end of this year and into next year," he says. "At the end of 2013, the unemployment rate should be close to 7.5 percent."
Allen Sinai, chief economist at Decision Economics, says Americans will face a stark reality if fiscal cliff negotiations fail, and taxes rise considerably while deep spending cuts take hold. "We can expect another recession," he says.
There was another bright spot in the jobs report when it came to the average duration of unemployment: it fell last month. For those 55-plus, it took an average of 55.4 weeks to find work, down from 57.7 weeks the month before. For those under 55, the duration declined to 37. 1 weeks in November from 37.8 weeks in October.
Professional and business services, retail, and health care once again led with the biggest gains in hiring last month, the BLS reported.
On the down side, November planned jobs cuts rose for a third straight month. Employers said they expected to cut 57,081 workers from their payrolls, a 34 percent hike from November 2011, according to the latest report from global outplacement consultancy Challenger, Gray & Christmas.
Looking for work? Check out AARP's Work Reimagined, which helps experienced professionals connect to more satisfying careers.
Photo credit: Yellow Dog Productions/Getty Images