Looking for Work? Check Out 'Best Employers' Winners
By Deb Silverberg , August 23, 2013 04:00 AM
The following is a guest post by Debbie Banda.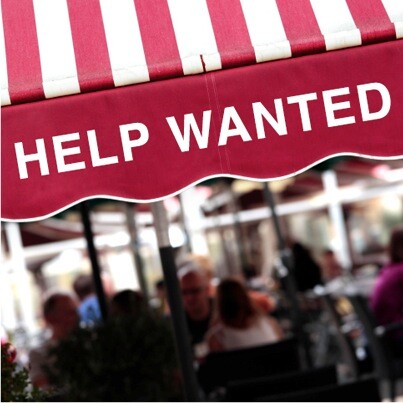 Would you leave your employer for a job with greater flexibility and more benefits? And would it help to know that your prospective new employer actually valued older workers? If so, take a look at openings at the winners of AARP's Best Employers for Workers Over 50 award, co-sponsored by the Society for Human Resource Management (SHRM).
This article points out some key elements of what attracts workers and makes them want to stay - and what could make them want to leave for a different employer. It's no coincidence that there are commonalities with many of the key offerings of AARP's Best Employers winners.
Flexibility (including benefits such as flex time, telecommuting and phased retirement) is highly valued by older workers, according to AARP's recent Staying Ahead of the Curve 2013 study. The top winner, the National Institutes of Health (NIH), offers all three of these options, along with job sharing and compressed work schedules.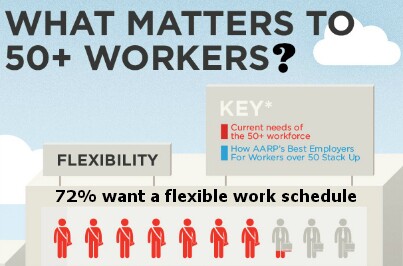 Financial benefits are also a strong motivator. In particular, older workers want help saving for retirement. Almost all offer a 401(k) or similar retirement savings plan, most with matching contributions, and nearly half (44 percent) of the Best Employers still offer a traditional pension.
Many Best Employers winners also understand that Caregiving is a potential issue for employees. Thirty-eight percent of winners provide paid time off for caregiving. That's a valued benefit because 21 percent of employees age 45-plus have taken time off to provide help to a loved one, and 20 percent anticipate that they may need to take time off from their job in the next five years to attend to caregiving responsibilities.

Want to see if one of the AARP Best Employers has an opening that could be a fit for you? The list of winners now includes a search box to find out if they have openings.

These tips will help you get the best search results:

Scroll through the list of winners first. When you see an employer that interests you, go to the top of the page to see the search option in the gray box.
Use 'Please Select' to choose the employer's name.
A list of open positions will come up.
If you don't see a job that fits with your skills or a local position, try the zip code search to see other local jobs with a range of employers.
There is another resource you may want to check out as well. You can also see a list of employers who have signed a pledge to level the playing field for experienced workers, and their job openings (click the number under the company name to view). That list is part of our Life Reimagined for Work program. With more and more folks working longer, it's good to know that more employers are offering workers greater flexibility, and that they value people with experience.

Debbie Banda is the Senior Advisor on workforce issues for AARP's Financial Security Team. She also manages AARP's Best Employers for Workers Over 50 program.

Also of Interest

Join AARP: Savings, resources and news for your well-being
See the AARP home page for deals, savings tips, trivia and more