Joblessness Rises for Older Workers in May
By Carole Fleck , June 01, 2012 09:51 AM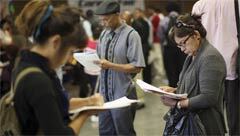 Unemployment lines got longer in May for older workers as the unemployment rate for people 55-plus rose to 6.5 percent from 6.3 percent the month before, the government reported Friday.
For older men the jobless rate climbed sharply from 6.3 percent to 7 percent last month. The rate declined for women to 5.6 percent from 5.8 percent in April.
May was a trying month for workers of all ages around the nation. The economy only added a feeble 69,000 jobs, far less than economists predicted, and the unemployment rate edged up to 8.2 percent.
About 200,000 people entered the workforce, helping push up the jobless rate.
Those out of work for six months or more also rose from 5.1 million to 5.4 million as of May, the Bureau of Labor Statistics reported. Of those, 55 percent were age 55-plus.
There was some good news, though, in the length of time that jobless older workers had been unemployed: it declined a bit, from 60 weeks as of April to 56 weeks last month. For those under age 55, the duration of unemployment remained the same at 38.5 weeks.
Marisa DiNatale, director at Moody's Analytics, says the economists in her office are "all scratching our heads" over the unexpected weakness in the labor market.

"We're sort of puzzled by this," DiNatale says. "It could be rattled business confidence to some extent. There could be uncertainties leading up to the [presidential] election by business leaders holding off on hiring. We seem to be plodding along."

Health care, wholesale trade and transportation and warehousing saw a modest uptick in the number of jobs created. Construction saw a decline in the number of jobs added to payrolls.
Economists say that at least 200,000 jobs must be created each month to bring down unemployment.
Though the economy has added almost 3 million jobs in the last three years, that's just a fraction of the estimated 8 million positions that were lost during and immediately after the recession.
"We're not making meaningful progress in the labor market," says Millan Mulraine, senior U.S. strategist for T.D. Securities in New York. Nevertheless, he called the labor market slowdown "more modest" than last year's, when job creation started out strong in the first quarter, then petered out by last summer, before picking up again in the fall.
Still, he says, the recovery "remains largely intact in that we continue to see growth--modest growth but growth nonetheless. Given the uncertainty in Europe and domestically, the pace of growth has slowed relative to where it was last year," he adds.
A report released Thursday foretold the grim news from employers. In a survey, they said they planned to cut 61,887 workers from their payrolls in May, a 50 percent increase from April.
Computer maker Hewlett-Packard laid off about a third of those workers. Still, the job cuts last month were 67 percent higher than those in May 2011.
"While consumers and businesses are spending more on technology, the spending appears to favor a handful of companies. Those that are struggling to keep up with the rapidly changing trends and consumer tastes are shuffling workers to new projects or laying them off altogether," John A. Challenger, chief executive officer of global outplacement firm Challenger, Gray & Christmas, Inc., said in a statement.
The number of people who applied for unemployment benefits last week rose to the highest level in more than a month, the government reported Thursday, in another sign the U.S. labor market is not improving as fast as it was earlier in the year. Jobless claims rose by 10,000 to a seasonally adjusted 383,000 in the week that ended May 26, the U.S. Labor Department said.
The government also downgraded the pace of economic growth for the first quarter of this year. The output of goods and services produced grew at a 1.9 percent annual rate, slower than the 2.2 percent rate initially reported.
Photo Credit: David McNew/Reuters