More Bipartisan Support to Fight Age Discrimination
By Deb Silverberg , September 27, 2012 05:10 PM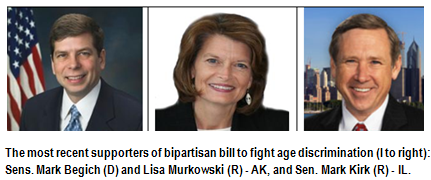 UPDATE: While partisan rhetoric heats up as the presidential election looms closer, it's especially encouraging to see at least one piece of legislation get support from both sides of the aisle. The subject is age discrimination in employment decisions. Since this post was originally published in mid-July, Sens. Mark Begich and Lisa Murkowski of Alaska and Sen. Mark Kirk of Illinois have stepped up as sponsors.
We hope other senators from both parties will follow their lead. If your senator hasn't signed on yet, let them know that you want their support.
---
Has Your Senator Stepped Up to Fight Age Discrimination?
Know anyone who has faced age bias at work when it comes to hiring or layoff decisions-or is it a worry for you? If so, you should care about a certain senate bill. And the good news is that bipartisanship hasn't completely gone the way of the Dodo bird.
The issue uniting some big names from both sides of the aisle involves protecting older workers against age discrimination. AARP is hoping that more senators will sign on.
The "Protecting Older Workers Against Discrimination Act" (POWADA) was introduced in March by Sen. Tom Harkin (D-IA), Sen. Chuck Grassley (R-IA) and Sen. Patrick Leahy (D-VT). Others who have signed on include Sen. Scott Brown (MA), Sen. Patty Murray (WA), Sen. Sheldon Whitehouse (RI), Sen. Al Franken (MN), Sen. Herb Kohl (WI), Sen. Robert Casey, Jr. (PA), Sen. Barbara Mikulski (MD), Sen. Jon Tester (MT), and Sen. Jeff Merkley (OR).*

The support for this bill should be welcome news to millions of seasoned workers who are worried-and rightly so-about being a pink slip away from having their financial and emotional lives upended. But to ensure it moves forward, more people need to take action.

Passing the legislation would help ensure that employees have a more level playing field when fighting age discrimination in court. Senate Bill 2189 would overturn the Supreme Court's 5 to 4 decision in Gross v. FBL Financial Services, which became a major obstacle for older workers needing to prove bias based on their age.
A recent AARP survey shows that older Americans from both parties overwhelmingly support legislation to combat age discrimination in the workplace, with 78 percent of those polled favoring passage of S.2189.
Older workers have valid reasons to be worried about finding a new job in this tough economy given the latest unemployment figures. "Age discrimination continues to be a barrier," explains AARP's Debbie Chalfie, a senior legislative representative and age discrimination expert. "It is critical that those who need or want to work longer are able to do so."
Want to see the age discrimination protection bill move forward in the Senate? See the bill tracker for the updated list of supporters, then contact your senators online or call 1-800-221-2764, and ask them to support S. 2189.
And if they've already signed on, be sure to thank them. You never know-this legislation could make a difference for you some day.
Supporting older workers: Find job hunting advice and tools at www.aarp.org/work and learn more about age discrimination, from legal definitions to what to do if you think you've been a victim. Employers, see the Workforce Assessment Tool co-sponsored by AARP and SHRM . For more on work and career issues, follow @AARPMoney on Twitter.
Graphic: The famous (and unfortunately extinct) "Edwards Dodo' painted by Roleant Savery in 1626, via Wikipedia.
* "Has Your Senator Stepped Up to Fight Age Discrimination?" originally published 7/13/12, before Sens. Begich, Murkowski and Kirk signed on. Senators' photos courtesy of their individual Senate.gov web sites.