Most Medicare Recipients Have Modest Incomes, Kaiser Reports
By Carole Fleck , June 20, 2014 12:02 PM
If you've ever wondered about the finances of people receiving federally funded Medicare benefits - are they wealthy, poor or somewhere in between? - a new chart provides some clues.
This interactive infographic, released by the Kaiser Family Foundation, takes into account assets, income, age and more as it delivers a financial picture of the estimated 52.4 million people on Medicare. The graphic also includes projected data for 2030, so you can see how current recipients measure up against future beneficiaries.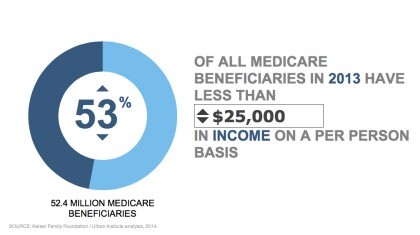 >> Sign up for the AARP Money newsletter
The income disparities among today's Medicare recipients are considerable. According to the tool, 4 percent of recipients in 2013 reported income over $100,000, 53 percent had less than $25,000, and 42 percent had less than $20,000. Looking at savings, 59 percent had less than $100,000. (The figures are on a per-person basis, rather than a household basis.)
"The infographic tells an important story that ... reflects what we see every day. A lot of seniors are struggling to make ends meet," says Kevin Prindiville, executive director at the National Senior Citizen Law Center.
Debra Whitman, AARP executive vice president for policy, strategy and international affairs, also points out that older adults spend a disproportionate amount on health care compared with other age groups, putting even more pressure on their bottom line.
"Most people don't realize how few resources most older Americans live on or have in the bank," she says. "When policymakers talk about having Medicare beneficiaries pay more for their benefits, they often don't understand how low most beneficiaries' income is and how much they are already paying for health care costs that Medicare doesn't cover."
>> Get travel discounts with your AARP Member Advantages.
To get an idea of what you may have to pay out of pocket for health care expenses during retirement, see the AARP Health Care Costs Calculator.
As bleak as the financial situation appears to be for many of today's older adults, the outlook isn't much better for retirees in 2030. At that time, Medicare may cover 80.9 million people. Of those, 7 percent are expected to have (inflation-adjusted) income above $100,000 and 45 percent will have income of less than $25,000.
What about home equity, which often is a critical component of a retiree's nest egg? Adjust the tool for that particular measure and it'll tell you that 68 percent of recipients in 2013 had less than $125,000.
Boomers may be feeling even more strapped than today's retirees because fewer of them will have employer-sponsored retiree health benefits. Consequently, they'll likely be shelling out more for out-of-pocket costs. According to a Kaiser Family Foundation report in September, the share of employers that offered retiree health benefits fell to 25 percent in 2012 from 66 percent in 1988.
What's more, many aren't on track to save enough for retirement, due in part to years of stagnant wages and a recession that knocked people out of the workforce.
"The savings rate for people ages 50 to 64 is very low," Prindiville says. "Looking into the future, beneficiaries will continue to be people who don't have high incomes and high assets."
Chart: Kaiser Family Foundation
Also of Interest

See the AARP home page for deals, savings tips, trivia and more.