Obama Order Blocks Federal Contracts for Age Discrimination Violators
Contractors found to have discriminated against workers because of their age or committed other recent labor-law violations will be ineligible for federal contracts under an executive order that President Barack Obama signed today.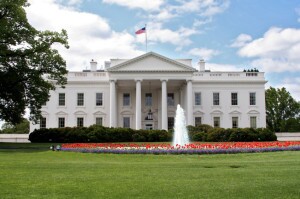 Among the worker protections in the order: Businesses with federal contracts of $1 million or more cannot require arbitration in worker disputes involving sexual harassment and certain civil rights violations. Workers also must get basic information on their paychecks, such as deductions and hours worked, so they can verify that their pay is accurate.
"For companies that have violations, the emphasis is not going to be on punishment. It's to give them a chance to follow good workplace practices and come in compliance with the law," Obama said at a news conference before signing the order.
>> Sign up for the AARP Money newsletter
About one in five American workers are employed at a business with a federal contract, the president said.
The order will apply to new contracts worth more than $500,000. Prospective contractors will be required to report labor violations that occurred within the past three years. They will also need to collect this information from their subcontractors. A White House fact sheet said contracting officers will be looking at the most "egregious violations."
Agencies, too, will be given the tools to better evaluate potential contractors, the president said.
The rule is expected to be phased in on new contracts.
In the past, labor-law violations haven't precluded employers from securing business from Uncle Sam. The Government Accountability Office reported in 2010, for instance, that contractors committing two-thirds of the 50 biggest wage and hour violations went on to win federal contracts.
Companies that violate labor laws not only fail their workers but taxpayers, too, Obama said. These companies often underperform, turning in sloppy work, missing deadlines and overbilling taxpayers, the president said.
For older workers, one of the key provisions is that age discrimination won't be tolerated among employers seeking to do business with the government.
>> Get travel discounts with your AARP Member Advantages.
"We know that age discrimination is a big problem," although cases often don't end up in court, said Sara Rix, senior strategic policy adviser at the AARP Public Policy Institute.
To the extent that employers will have to be more careful in how they treat workers and take steps to prevent discrimination, the executive order "should benefit a greater number of workers," she said.
This is the latest executive order this year involving worker protections and federal contractors. An order signed earlier this month prohibits federal contractors from discriminating against workers based on their sexual orientation or gender identity. And a February order set a minimum wage of $10.10 at federal contractors and subcontractors.
Photo: Jkinsey/iStock
Also of Interest

See the AARP home page for deals, savings tips, trivia and more