New Jobs Report: Older Workers See Gains
By Carole Fleck , November 02, 2012 10:05 AM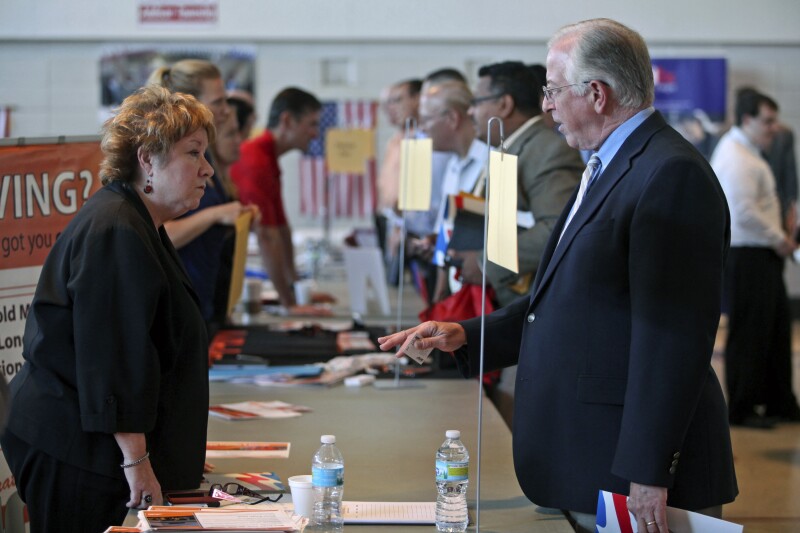 Companies did more hiring than firing in October and older workers caught some of that action. A higher-than-expected 171,000 jobs were added to the economy last month as jobless levels for people 55 and older tapered off, according to the Bureau of Labor Statistics.
The jobless rate fell to 6.1 percent in October from 6.4 percent the month before for men 55-plus. One year ago, the rate for this group was 7.2 percent.
For older women, the unemployment rate edged down to 5.5 percent last month from 5.6 percent in September. It had been 6.5 percent in October 2011.
Nationally, the unemployment rate ticked up one-tenth of 1 percent to 7.9 percent last month. More than 12 million people were out of work.
October's unemployment report, the last one before the Nov. 6 election, was seen as important to both presidential candidates. Jobs and the economy figured prominently during this campaign season.
Meanwhile, hiring appeared to be stronger than we knew in the third quarter. The BLS revised up by 50,000 the number of jobs added to the economy in August to 192,000. For September, the jobs created figure was also revised up by 34,000 to 148,000. All in all, the economy has seen 25 consecutive months of jobs gains but generally at too slow a rate to make a big dent in unemployment levels.

"Private payrolls have now been steadily increasing by an average of 173,000 over the past four months," says Paul Ashworth, chief U.S. economist at Capital Economics. "That still isn't great but if sustained, it should be enough to bring the unemployment rate down gradually."

The improving pace of hiring seemed to indicate that businesses are somewhat less fazed by the impending fiscal cliff, a slew of tax increases and spending cuts for next year if lawmakers fail to act.
While that is welcome news, a big problem remains. The ranks of the long-term unemployed, people out of work for six months or more, remained at 5 million. Of those, 53 percent were 55 and older.
Among older adults, the average duration of unemployment crept up last month. For those 55-plus, it took an average of 57.7 weeks to find work, up from 55.7 weeks the month before. For those under 55, the duration climbed slightly to 37.8 weeks in October from 37.2 weeks a month earlier.
Professional and business services, health care, retail and leisure and hospitality saw the biggest gains in hiring last month, the BLS reported.
The upswing in jobs growth has apparently buoyed consumer confidence, a measure that rose to a near-five-year high of 72.2 in October from 68.4 in September. Moreover, households that say jobs are hard to find compared with those that say jobs are plentiful also fell to a four-year low of 29.1 from 32.6.
However, one report seemed to indicate otherwise. It says planned job cuts by U.S.-based employers surged 41 percent in October to 47,724, its highest level in five months. Despite the increase, the planned cuts were still well below last year's pace, according to the report released Thursday by Challenger, Gray & Christmas, an outplacement consultancy firm.
The automotive sector led the hike in planned job cuts, which included positions in U.S.-owned auto plants in Europe.
If you're looking for work, visit AARP's free service called Work Reimagined. The social networking site partners with LinkedIn to help you find information and job openings.
Photo credit: Bloomberg/Getty Images
Follow me on twitter @cfleck1