Older Job Seekers Fear Being Seen as Overqualified
By Carole Fleck , September 13, 2013 01:34 PM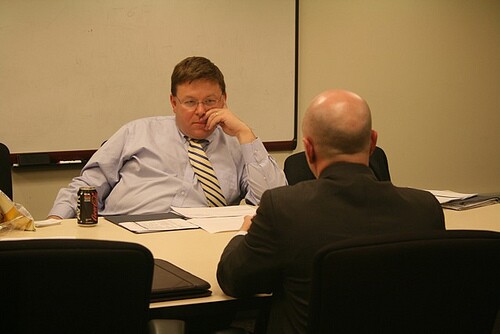 Snagging a job interview is a good thing, right? Well, yes, and for most people, it's about as nerve-wracking as delivering a speech to a packed audience.
A new poll finds that a job interview is a stressful ordeal for most of the 1,002 working adults surveyed. Having the jitters, of course, was a common complaint.
For older workers, there was something else to worry about: one in five people ages 54 to 65 say they worry that they'll be considered overqualified for the job. One in 20 say they're afraid of making a bad first impression.
Quiz: Will you ace the job interview?
Some seasoned workers in that age group - one in 10 - say absolutely nothing stresses them out about job interviews, according to the 2013 Job Interview Anxiety Survey conducted by Harris Interactive for Everest College.
Among all ages (18 and older), about one in seven say they worry about being stumped by the employer's questions. The same number of people fear that they'll be late for the job interview (the alarm clock doesn't go off, the dog runs away, traffic is at a standstill, or insert recurring nightmare here). One in 10 worry that they won't be prepared for the interview.

"For so many, the job interview can be a high-pressure, make-or-break event ... so it's only natural that anxiety can play a major factor," says John Swartz, regional director of career services at Everest College. "The best advice to help manage job interview fear is to simply be prepared. Conducting research, anticipating questions and acting professionally are staples that will stand the test of time."

Play the Opportunity Knocks Game! How did you get your job experience?
Naturally, women and men differ over what stresses them most about the job interview. One in five women say they're afraid of appearing too nervous or that they won't be able to answer a specific question. Almost the same number of men worry most about being viewed as overqualified for the position.
If a hiring manager asks if you're overqualified for a job, recruiters suggest responding by showing your enthusiasm for the position and by expressing pride in your qualifications. Explain what makes you interested in the job at this point in your career. Perhaps you want to use your skills and expertise more broadly in a new field, for instance.
If you haven't worked for a while because of the rough job market or some other reason, you may have gaps in employment to explain. Experts recommend speaking confidently about your experiences during those periods. For instance, tell the hiring manager if you did volunteer work, or used the time to learn new skills that you could apply to the job. If you were a caregiver and managed complex financial issues, you could tout those talents as well.
Check out these tough interview questions and responses to help you prepare for your next interview.
Photo: BPSUSF/Flickr
Also of Interest

See the AARP home page for deals, savings tips, trivia and more