Older Unemployed Face a Tough Road
By Rick Levinson , January 02, 2014 04:16 PM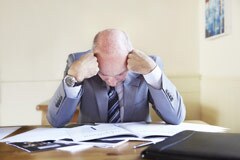 What's the prognosis for the older long-term unemployed? Grim.
That's the takeaway from " Set for Life," a new American Public Television documentary underwritten by the AARP Foundation. The hour-long program tracks several primary breadwinners who have lost their jobs, the effect that has on their families and their efforts to land a new one.
The program catalogs the dismantling of the American Dream - an informal compact that assured workers of relative job stability, health care, and the opportunity to own an affordable home. The Great Recession of 2008 turned those assumptions on their head creating prolonged unemployment for millions, repeated layoffs and home foreclosures.
>> Sign up for the AARP Money newsletter
The statistics for older jobless workers paint a dismal picture. Those aged 55 and older were unemployed for about 51 weeks as of November 2013, about three months longer than their younger counterparts, according to AARP. And when older workers do land a new job, it's often for less money.
The families in Set for Life also face health problems (several lack health insurance) and the specter of losing their homes.
Adding to the pain, Congress let extended unemployment benefits lapse at the end of 2013, affecting about 1.3 million job seekers, according to AARP. AARP is pressing for a restoration of those benefits through 2014 and an emergency three-month extension has been proposed. It remains unclear if that will pass in Congress.
Meanwhile, check your local listings for airings of Set for Life. A note of caution, though, while the program is eye-opening, it's pretty heart-wrenching.
>> Get discounts on financial products and services with your AARP Member Advantages.
Also of Interest

See the AARP home page for deals, savings tips, trivia and more