Older Workers See Gains In Jobs Report
By Carole Fleck , May 03, 2013 10:22 AM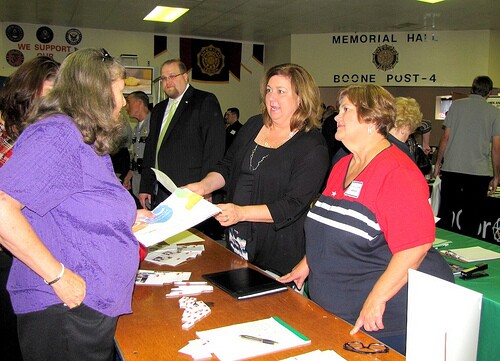 Despite fears of a spring slowdown, the economy continued to improve in April as employers created 165,000 new jobs and the unemployment rate held steady for older workers, the government reported Friday.
Among all workers 55 and older, the jobless rate remained at 5.5 percent last month, same as in March.
For men in that age group, the rate held steady at 5.7 percent for the second consecutive month. For women, the unemployment rate fell from 5.2 percent in March to 4.8 percent in April. That's a considerable improvement, though levels tend to be more volatile for women because their figures are not seasonally adjusted.
Nationally, the jobless rate ticked down one-tenth of 1 percent to 7.5 percent, the lowest level in four years, according to the Bureau of Labor Statistics. Some 11.7 million people are out of work, down by 673,000 from January.
To understand how far we've come, consider that the jobless rate in April, 2012, stood at 8.1 percent; in April, 2011, it hovered at 9 percent; and in April, 2010, it hit 9.9 percent.
[ Read: How Should Older Workers Navigate the Job Market?]
April's better-than-expected jobs report eased economists' fears of a spring slowdown leading into a summer slump. That's been the pattern over the last several years-a stronger recovery early in the year that peters out as spring and summer approach. Still, the economy needs to add at least 200,000 jobs a month for the jobless rate to fall.

At this rate of growth, says economist Adam Hersh with the Center for American Progress, "we will not reach full employment until June 2021."

One troublesome spot in the report: More Americans were working part-time in April because they couldn't find full-time work, or because their hours were cut, the BLS noted. Their numbers rose by 278,000 to 7.9 million.
One devastating spot in the report: One in two unemployed older workers was out of work for six months or more in April. That figure underscores the brutal challenge many older job seekers face in finding work. Overall, the number of long-term unemployed fell by 258,000 to 4.4 million last month.
Once again, the duration of unemployment last month grew for older workers to 50.2 weeks from 49.2 weeks in March. For those under 55, the duration in April grew to 36.9 weeks from 35.7 weeks the month before.
Given the amount of time it's taking workers 55-plus to find a job, it's not surprising that some have given up altogether. The number of older discouraged workers (people who stopped looking for work because they grew so discouraged by their prospects) rose by nearly 50,000 in April.
To highlight the plight of older job seekers, PBS NewsHour will air a broadcast Friday night as part of its series on older workers and the economy. Correspondent Paul Solman looks at the grim prospects facing the long-term unemployed.
Underemployment, which combines the unemployed with those who are working part-time because they couldn't find full-time work, stood at 17.5 percent in April. That was down from 18.2 percent in April 2012, according to the Gallup polling organization, which tracks that data.
In the latest report on downsizing, employers announced plans to trim payrolls by 38,121 in April, the lowest level of job cuts since December, according to the outplacement consultancy Challenger, Gray & Christmas. For the first four months of 2013, the pace of downsizing-at 183,162-was virtually the same as a year ago.
The retail industry suffered the biggest job cuts announced in April, the report said.
"The biggest concern is that consumers, who had been holding up the economy for so many months, are starting to scale back their spending as wages continue to stagnate," John A. Challenger, chief executive officer, said in a statement. "American's wages are not quite keeping pace with increased expenses. As a result, we are not going to see a big increase in consumer spending."
Aerospace and defense firms announced 2,927 job cuts last month, most of which were blamed on federal spending cuts or concerns over sequestration.
The number of Americans seeking unemployment aid fell last week to a seasonally adjusted 324,000, the lowest since 2008, the government reported earlier this week. The four-week average, a more accurate gauge, fell by 16,000 to 342,250.
Photo: KYNGPAO/flickr
Also of Interest

Join AARP: Savings, resources and news for your well-being
See the AARP home page for deals, savings tips, trivia and more