Poll: Businesses Concerned About Losing Older Workers
By Carole Fleck , April 19, 2012 01:40 PM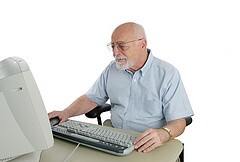 To prepare for a brain drain when scores of Boomers retire, many U.S. employers are ramping up training and taking other measures to avert challenges in the workplace, a new poll finds.
Of 430 human resource professionals surveyed, nearly three in four (72 percent) say the loss of talented older workers is a problem or a potential problem for their organizations. Over 50 percent polled say employees 50-plus have a stronger work ethic, bring more professionalism to their job, and have better writing and grammar skills than younger workers.
AARP and the Society for Human Resource Management (SHRM) conducted this poll to learn how employers were preparing for the impending demographic shift in the workplace and to raise awareness about related issues.

"Older workers bring unique talents and skills to the workforce, and are a great asset to employers," says Jean Setzfand, AARP's Vice President for Financial Security.

Indeed, some employers aren't waiting for the skills and knowledge gap to potentially cause problems for their businesses when older workers retire. Nearly one in three polled (30 percent) say they've hired retirees as consultants or temporary workers. More than one in four (27 percent) say they've offered flexible work arrangements to keep older workers on the job.
Other measures employers have taken to address the looming issue include:

45 percent of those polled increased training for younger employees
38 percent developed succession planning
24 percent designed part-time positions to attract older workers
Yet despite the shift in the workforce as 77 million Boomers begin to reach the traditional retirement age of 65 over the next two decades, not all employers appear to be proactive. About 71 percent say they still have not analyzed the impact on their businesses when workers 50-plus retire. And 27 percent say they're not concerned about the demographic shift in their company.
Still, among those polled, many employers agree that older workers hold an advantage over younger employees in these areas:

Problem solving (27 percent)
Self direction (16 percent)
Leadership (15 percent)
Teamwork and collaboration (10 percent)
For more information, read the complete SHRM/AARP survey.
Photo by billpellegrini1 via Flickr Creative Commons.