Why Is Retired NBA Star Adrian Dantley Now a Crossing Guard?
By Steve Mencher , March 21, 2013 05:14 PM
There's a poster outside my office of a hard-hatted construction foreman or architect on a job site. A thought bubble hovering over him reads, "I never thought I'd be working just to have health insurance." That came to mind when I read that retired NBA star Adrian Dantley, 58, is working as a school crossing guard near my home outside Washington, D.C.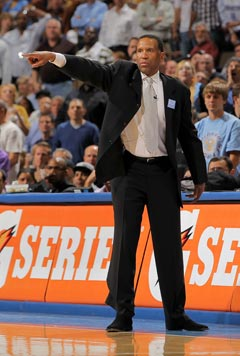 The high cost of health insurance clearly rankles Dantley, a Hall of Famer who played mostly for the Utah Jazz and coached for the Denver Nuggets. He told CNN that he forked over $17,000 for coverage last year, which is more than a crossing guard makes in Montgomery County, Md., where Dantley works. And yes, health insurance comes with the job.
Do you root for the underdog in sports? Join the Discussion
But that benefit isn't the main appeal for Dantley, as suggested in reports from the websites Deadspin and Huffington Post. "Nah, I just did it for the kids," he told the Washington Post. "I just didn't want to sit around the house all day."
What to do for an encore career is a common concern for professional athletes. Some people might consider helping kids safely cross a streets kind of, well, pedestrian for someone who used to pull down seven-figure salaries. But not Dantley. "It's not beneath me," he told ABC News. "I'm a regular guy."
A regular guy who says he's already saved the lives of two kids in his seven months on the job. That's quite a contribution to the community and might be more important than all the games won and points scored in his masterful basketball career.
Dantley has also noticed that people are just plain stupid when crossing the street. "I would say 70 percent of the people who go across my route are on their telephone or on their BlackBerry, text-messaging," he told the Washington Post. "I never would have seen that if I had not been on the post."
Maybe that suggests another mission to get Dantley out of his house.
Photo: Doug Pensinger/Getty Images