Steady Jobs Growth Eludes Older Workers
By Carole Fleck , February 01, 2013 11:08 AM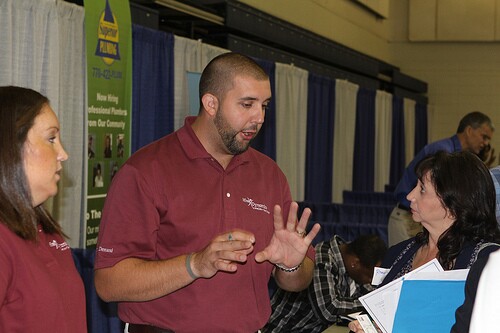 Older job seekers may feel like they're scaling Mount Everest in pursuit of work. Employers added 157,000 jobs to their payrolls in January but the unemployment rate for older workers climbed just one-tenth of 1 percent to 6 percent, the government reported Friday.
For men 55 and older, the jobless rate remained at 6.2 percent for the second straight month. But to illustrate the challenges they face in landing a job, consider their unemployment rate one year ago - it was 6 percent.
Jobless levels for older women jumped to 5.9 percent in January (same as this time last year) from 5.1 percent in December. The figure for women tends to be more volatile from month to month because their numbers are not seasonally adjusted.
Finding work also proved difficult for men age 45 to 54. Their jobless rate climbed to 5.9 percent last month from 5.7 percent in December. The rate for women in that age group stayed at 6 percent in January, the same as the month before.
Nationally, the jobless rate inched up to 7.9 percent in January from 7.8 percent, where it remained in November and December, the Bureau of Labor Statistics reported.
The BLS revised up job gains in November and December by a combined 127,000.
Some 12.3 million people were out of work in January, about the same as the month before. Of those 55-plus, 44 percent were out of work six months or more. That may be staggering but it showed some improvement from December, when 49 percent were out of work that long.
The average length of time people 55 and up were looking and found work also improved though it was still high - it was 42 weeks in January, down from 51 weeks the month before. For those under 55, the average duration of unemployment fell to 32 weeks in January from 34 weeks in December.
The steady pace of jobs growth - it's averaged around 181,000 new hires a month for a year - indicates the recovery is moving forward but not quickly enough to push down jobless levels significantly. Unfortunately, in a saga that began with the start of the recession, too few jobs are available for the number of people seeking work.
By summer, however, employers may be more eager to add to their payrolls. Bernard Baumohl, chief economist at the Economic Outlook Group, says he expects economic growth to pick up in the second half of this year. He says the first six months may be shaky due to the payroll tax break expiring, taking a bite out of workers' take-home pay, and budget issues that lawmakers continue to deal with.

"A growing number of economists are realizing that 2013 will turn out to be a better year than many forecast six months ago," Baumohl says.

"All economic indicators are moving in the right direction. We'd like to see jobs [creation] in the range of 300,000 a month - that would bring down unemployment levels. Companies will not hire until they're convinced the recovery is sustainable and they see a significant pickup in demand for the goods and services they provide," he says.
To that end, planned layoffs announced by companies rose in January to 40,430, a 24 percent increase from the previous month, according to the latest report by the consultancy group Challenger, Gray & Christmas. On the bright side, the planned cuts were 24 percent lower than at this time last year.
In the months ahead, consumer spending, which drives economic growth, may be headed up. The government reported Thursday that personal income rose 2.6 percent in December. It was the biggest increase in eight years.
Photo credit: City of Marietta, Ga., via flickr.com