Trading Higher Pay for Higher Job Satisfaction on the Road to Retirement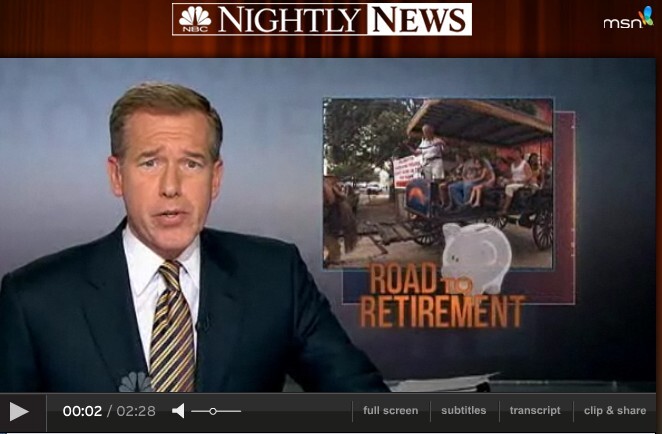 Downshifting your career can mean an uptick in job and life satisfaction. As Ron Mott explains in this NBC Nightly News "Road to Retirement" segment, many Americans - especially people 50+ - are opting to take the reins themselves.
That was the case with Gay Spear of Charleston, South Carolina. The former postmaster and marine became a tour guide and she isn't looking back. "To me it's more fun than it is work."
Apparently more people are willing to trade the security of a steady paycheck and decades of proven experience for something new, even when they're getting closer to the age when many may be thinking retirement. The Road to Retirement piece cites a study conducted by the Urban Institute, noting that between 2008 and 2011, 23% of people in their 50s and 17% of people in their 60s made a career change.
Former road warrior and hospitality executive Kay Morrison's "a ha" moment came after feeling the pain of being away from her kids for days at a time. The New Orleans resident decided to trade in her secure job and its frequent flier miles for entrepreneurship and launched a home, life and work organizing service called The Occasional Wife. Her business is thriving - and Instead of wondering what city she's waking up in, she wakes up to her family.
Work and retirement expert Jean Setzfand of AARP thinks finding doing work you enjoy and working longer is a good trade-off for most people. "The longer you can work and draw an income the better off you'll be financially."
Want to crunch some numbers to see how working longer can make a difference? Check out the AARP retirement calculator. It's free and available to anyone, regardless of age. Another benefit to working longer is that you can wait to claim Social Security, which can make a big difference to your retirement bottom line. AARP's Social Security claiming calculator can help you gauge what your monthly payment would look like if you claimed at 62 -or if you decided to wait until 65 or 70 (or anywhere in between).
Gay Spear had to downsize her life in other ways to given the lower paycheck, but it's easy to see that she thinks it was the right call. The tour guide says, "I'm going to this as long as I can still do it because I love it."
Are you 50+ and contemplating a career change? Or thinking about becoming your own boss? Find information and tools at www.aarp.org/work -- including job-hunting resources, a link to AARP's job search engine, and information on re-careering when you're over 50.

Image and video courtesy of NBC Nightly News.