Meet This $50,000 Retirement Contest Winner
By Deb Silverberg , December 26, 2012 09:02 PM
"Learning about retirement planning has never been so much FUN!" Fun? Some people might use other "f" words. Maybe winning $50,000 would help change your mind. It was a game-changer for one woman (more on her in a minute).
For many, retirement planning falls between somewhat intimidating to downright frustrating, or maybe even depressing - especially if you are, or have been, out of work.
Those are just a few reasons why AARP's financial security education team decided to inject some fun into taking their free online retirement planning tools and resources (useful even if you're decades away from retirement) out for a spin.

If you had fun playing the old board game called The Game of Life, AARP's online Ultimate $50,000 Retirement Game will feel somewhat familiar. Even better, you'll learn more about retirement planning and in addition to the chance at the big prize, there are daily $50 gift card winners, too.*

Why the asterisk? You have to be age 40 or over to enter (and like any other online games, a few other rules apply). Be sure to play soon, since the contest ends December 31, 11:59 EST.
One person who is glad she took a chance on playing a game with AARP is Karen Bratkovic. The 67-year-old widow, who lives outside Chicago with her two dogs, called her 50K windfall "a blessing from the sky."
Karen and her late husband, who died of leukemia in last year, had saved throughout their lives and minimized their expenses. But after his death Karen's own small pension and Social Security survivor benefits barely covered the mortgage on a house way too big for her, and way too far from family in Tucson.
Although Karen knew she needed to downsize, she didn't have the money to get the house in shape to put it on the market - until she won AARP's contest (read full story here). "I'll be able to fix up the house and make my last move to Arizona," Karen said. "That's how much this means to me. I just can't believe it - I feel like I won the $6 million lottery."
We're thrilled for her, and the AARP team will be just as excited for the next winner - whether he or she is working (or trying to find a job) and a decade or more away from retirement - or whether, like Karen, they're currently making ends meet with the help of Social Security.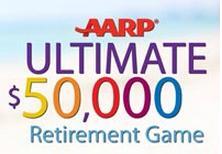 Best of luck in the Ultimate $50,000 Retirement Game, and best wishes for a happy, healthy and financially secure New Year.
AARP's retirement tools and tips and job-hunting and self-employment resources are free to anyone of any age. And if you're on Twitter, follow us at @AARPMoney.
Photo of Karen Bratkovic by Harvey Tillis.