Starting a Business? Find Your Niche
By Stacy Julien , October 30, 2012 02:57 PM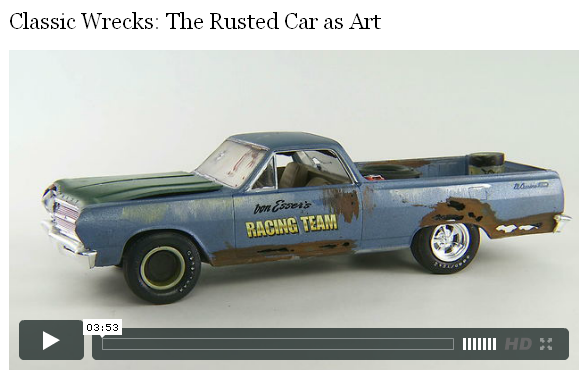 I marvel at entrepreneurs who can take an idea and sell it, no matter what it is. Sometimes it's the marketing machine that does the trick. Or the entrepreneur's sheer passion. But other times it's the discovery that there's a niche community of fans out there salivating for their "thing."
John Findra's thing is the fantastically beat-up classic car as art - distressed, rusted, gutted and all. The more weathered, the cooler. His firm Classic Wrecks turns out pint-sized replicas of junk cars from previous eras, like a '69 Camaro or '62 Pontiac Catalina. A bona fide car fanatic since childhood, he opened Classic Wrecks in 2011.
I've become so enthralled with his work that I've got to thinking that each new ding in my car door gives it "character." Who else shares my feelings? Well, 300-plus customers who have put down money for the replicas, which sell for around $75 apiece.

Before stepping out to run a small business, it's important to know your market. Findra has been into modeling cars since he was a tyke and knows his market like the back of his hand.

Yes, you have an interesting idea for a product or service, but do you truly know your market? Is there a unique or compelling desire for it? Who are your target customers? How will you reach them?
If the Web has showed us anything, it's that there's something out there for everyone. You just have to find those folks who are as passionate about your "thing" as you are.
The Small Business Administration offers the following tips on developing your target audience:
1. Be clear about what you have to offer. Understand why anyone would want to buy from you.
2. Don't become a jack of all trades. Do one or two things well, and build a reputation on that.
3. Identify your niche. Play to the strengths within that niche.
4. Find your target customer. Attract those customers who will value your services.
5. Tailor your business message. It should explain what you have to offer, why you're different, and why anyone should buy from you.
###
Want to follow your passion and become your own boss? See aarp.org/startabusiness for resources and tips, and join the Reinvention Group in our online community.
Video via Etsy.com blog