Who's Tapping Their 401(k) to Pay Off Debt?
By Carole Fleck , June 18, 2014 05:27 PM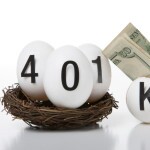 Too many workers are using their 401(k) savings plan as a piggy bank, tapping it way before retirement for reasons such as to pay off debt, remodel their home or take a vacation they couldn't otherwise afford.
New research from the financial services company TIAA-CREF finds that one-third of 1,000 Americans surveyed in May have taken out a loan from their retirement savings plan. And 44 percent say they now regret it. The survey looked at what situations caused workers to tap those funds.
Not everyone borrowed from a retirement plan to visit Bora Bora. Getting out of debt was cited as the top reason (46 percent), followed by paying for an emergency (35 percent), funding a home purchase or renovation (26 percent), paying everyday bills after a job loss (24 percent), bankrolling education costs for children or for themselves (20 percent), and paying for a family vacation or special event like a wedding (15 percent).
>> Get travel discounts with your AARP Member Advantages.
Women were more likely than men (52 percent vs. 41 percent) to take out a loan to pay off debt. Men were more likely than women (40 percent vs. 29 percent) to borrow from their plan to pay for an emergency expense.
Once borrowers used their 401(k) to ease their financial stress, they seemed more likely to do it again. As many as 43 percent say they've taken out at least two loans from their retirement plan, according to the survey. Nearly half borrowed more than 20 percent of their savings. About one in 10 borrowed 50 percent.
Related: Use This Retirement Calculator To Find Out Whether You're Saving Enough
Financial advisers warn against using 401(k) funds for other purposes, because it puts retirement security at risk. Here's why: Although the money you borrow from your 401(k) is generally paid back at a fixed interest rate, you likely would've earned a higher return on your investments if the money had been left in the account. Also, if you leave your job without paying the loan back, it becomes a distribution. That means you'll wind up paying taxes on it as well as a hefty 10 percent penalty if you're under age 59 1/2.
Teresa Hassara, executive vice president of TIAA-CREF's Institutional Business, says that borrowing from a 401(k) can be a double-edged sword for workers who haven't saved enough in the first place.

"Loans can undermine retirement savings and cause investors to miss out on earnings from rising markets," she explains. "It's important to evaluate the benefits of taking a loan now against the need for those earnings to build long-term retirement security."

>> Sign up for the AARP Money newsletter
The survey also found that more than half of those who took out loans cut their 401(k) contribution rate during the payback period - some by as much as 81 percent. Whereas only 39 percent of men kept the same contribution rate, this was true for 48 percent of women.
Not every 401(k) plan offers participants the option to borrow. And using the loan feature may not be in your best interest. According to a recent research paper by the Pension Research Council at the Wharton School at the University of Pennsylvania, nearly 40 percent of participants took loans from their 401(k) over a five-year period. In plans allowing multiple loans, participants were more likely to borrow and take out larger loans. The loan-default amount is a staggering $6 billion annually, the paper said.
Photo: Mario Aguilar/iStock
Also of Interest

See the AARP home page for deals, savings tips, trivia and more.