La desesperación que está matando a la población blanca de mediana edad en Estados Unidos
By Candy Sagon, November 16, 2015 05:06 PM
In English | Durante décadas la tasa de mortalidad entre todos los grupos de personas en Estados Unidos vió un decenso constante, gracias a los avances de la medicina y la calidad de vida. Pero 15 años atrás esa tendencia de repente cambió para uno de los grupos: la población blanca de entre 45 y 54 años.

Fotos: Combate la depresión sin medicamentos

En lo que un nuevo estudio denominó "una epidemia de desesperación", dos economistas de Princeton encontraron que el suicidio, el alcoholismo y la adicción a drogas son las causas de muerte entre la población blanca de mediana edad menos educada en Estados Unidos —esto se debe, en parte, a la pérdida de empleo y las dificultades financieras—. La cantidad de muertes (aproximadamente medio millón en los pasados 15 años) se compara con la cantidad de personas que han muerto de SIDA en Estados Unidos, según indican los autores.

En contraste, la tasa de mortalidad entre hispanos y negros de mediana edad, así como aquellos de 65 años o más en todos los grupos raciales y étnicos, ha mantenido un patrón de reducción. (La tasa de mortalidad entre los negros de mediana edad, a pesar de estar en descenso, sigue siendo más alta que la de los blancos de mediana edad. La tasa de mortalidad entre hispanos de mediana edad está muy por debajo de la de estos dos grupos).

La tendencia contrasta de manera marcada con las tasas de mortalidad de adultos entre las edades de 45 y 54 años en otros países occidentalizados. La gráfica a continuación muestra una comparación entre la población blanca de mediana edad (la línea roja gruesa) y los hispanos de mediana edad (la línea azul gruesa) en Estados Unidos, con otros grupos similares en otros seis países.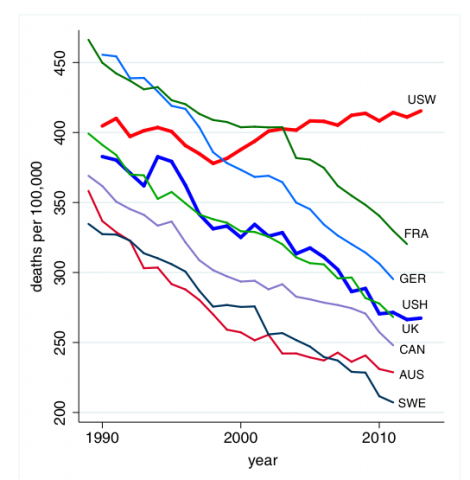 Los hallazgos se publicaron en un nuevo ensayo en Proceedings of the National Academy of Sciences por Anne Case, profesora de economía de Princeton, y su esposo Angus Deaton, ganador del premio Nobel en economía del 2015 y también profesor de economía y asuntos internacionales de Princeton.
Tras analizar la información de una gran variedad de estudios e informes, incluso de los Centros para el Control y la Prevención de Enfermedades, esta pareja encontró un aumento marcado en las muertes entre la población blanca de mediana edad en Estados Unidos entre 1999 y el 2013, pero las causas de muerte no eran las tradicionales, como las enfermedades del corazón y el cáncer. En cambio, se debía a que se había pasado por alto una epidemia de suicidios e intoxicación por abuso de alcohol y drogas, entre ellas los analgésicos recetados y la heroína.

Suscríbete a nuestro boletín

El mayor aumento ocurrió entre la población blanca de mediana edad que tenía un diploma de escuela superior o menor grado. Para ellos las muertes ocasionadas por intoxicación con drogas y alcohol se cuadruplicaron; los suicidios aumentaron en un 81%; y las muertes a causa de las enfermedades del hígado relacionadas al alcohol y la cirrosis aumentaron en un 50%, según indicaron los investigadores. Las personas de mediana edad en Estados Unidos también reportaron mayor dolor descontrolado, como dolor crónico en las articulaciones, así como estrés psicológico y condiciones mentales.

Esto puede deberse en parte a las escasas oportunidades económicas que tienen aquellos con menos educación, lo cual puede resultar en una desesperación mayor, en un deterioro del estado de salud y, a su vez, en el abuso de las drogas y el alcohol, dijo Case a CNN.

Deaton, su coautor, lo describió como un sector de la población que "ha recibido un gran impacto a causa del malestar económico a largo plazo. En términos reales, sus salarios han mermado. Así que llegan a la mediana edad sin haber podido alcanzar sus expectativas en lo más mínimo", dijo a NPR.
En un comentario publicado junto con el estudio, dos economistas de Dartmouth señalaron que, durante los años que Deaton y Case llevaron a cabo su análisis, el ingreso ajustado por la inflación para los hogares encabezados por personas con un diploma de escuela superior se redujo en un 19%. No obstante, esto no explica por completo por qué ese aumento en la mortalidad se experimentó solo entre blancos y no entre negros o hispanos, quienes también enfrentaron serios problemas económicos durante ese mismo período, dijo la coautora Ellen Meara al New York Times.

En cuanto a qué se puede hacer para mejorar la situación, a Deaton y a Case les gustaría que hubiera mayores restricciones en la prescripción de analgésicos, pero señalan que con toda seguridad hay problemas sociales y económicos involucrados en el asunto.

Descuentos en Salud y Bienestar: Ahorros de hasta un 30% en un estilo de vida más sano

"Lo que vemos es una epidemia de desesperación. Las personas con menos recursos económicos se ven cada vez más marginadas a medida que las desigualdades se tornan más marcadas", dicen ellos en una declaración.

Añadió que si no se toma acción, el resultado sería que "aquellos que ya alcanzaron la mediana edad continuarían hacia la etapa de Medicare en un estado de salud peor que el de los adultos mayores en la actualidad".

También te puede interesar:



Página de inicio de AARP

Foto: Juanmonino/iStock
Gráfico: Actas de la Academia Nacional de Ciencias, 2 de noviembre del 2015.