Give Wisely: What to Know About Your Holiday Charitable Giving
By Ashley Edokpayi, November 18, 2015 11:48 AM
AARP Fraud Watch Network warns consumers of possible fundraiser scams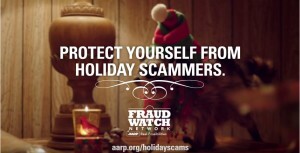 During the holiday season, consumers are often barraged with requests from local and national charities and fundraisers. In 2014, Americans gave $358 billion dollars to charity, a record high. We all feel more generous this time of year, and while donating to a good cause is a kind, philanthropic gesture to share the holiday spirit, it is important to know where the charitable proceeds are going to end up.

In a recent Fraud Watch Network consumer survey, AARP quizzed American shoppers to test their knowledge on the most common holiday scams. When it came to charitable giving, the results found that 78 percent of those surveyed have been solicited to donate to a charity or fundraiser in the past 12 months, and 70 percent of those who donated did so without inquiring how the proceeds would be spent.

Simple ways to save a buck, expert investment advice, scam alerts and much more! — AARP Money Newsletter »

It is imperative to know where donations are going, as there are some fundraisers, especially telemarketers, who pocket 85-90 percent of their proceeds for themselves. In the survey, only about half of consumers knew that professional fundraisers are allowed to keep a majority of the money raised as long as they are honest about the amount they keep.

Additionally, 60 percent of consumers didn't verify if the charity groups were legally authorized to raise money in their state. Professional fundraisers are required to complete government registration and to also report their charitable profits – nearly a third of consumers didn't know that this is mandatory.

Doing a little background research on the charity or fundraiser you choose to give to could help provide the facts you need to know beforehand. Donors shouldn't fret, but should remember to always ask and check before giving.




See more tips on holiday giving from AARP's Fraud Watch Network here: http://bit.ly/FWNHoliday

Also of Interest

See the AARP home page for deals, savings tips, trivia and more.